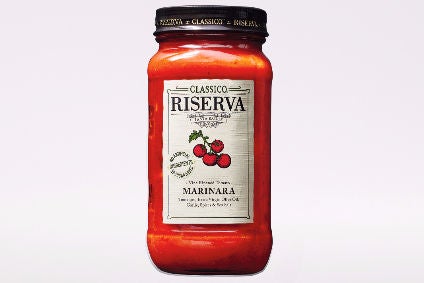 Kraft Heinz is extending its Classico brand in the US with the launch of a line of Italian sauces, Classico Riserva.
The range will come in five varieties: marinara, eggplant and artichoke, roasted garlic, arrabbiata and puttanesca.
The entire line is free from artificial ingredients and added sugars. The company said the products contain "simple" ingredients, such as vine-ripened tomatoes, extra virgin olive oil, herbs and spices.
"We have seen a trend across many categories including pasta sauce, where consumers just want the basics – no artificial ingredients but rather simple, fresh-tasting flavours," said Myrna Rexing, brand manager of Classico sauces. "Classico Riserva delivers on that desire, with simple, high-quality ingredients that stay true to the Classico brand heritage of great-tasting Italian recipe pasta sauces."
The launch is being supported by a marketing campaign including television, print and digital media, with the tagline 'open up a bottle of the good stuff'.
The line of Classico Riserva sauces will be available throughout the US from May with a suggested retail price of US$4.99.