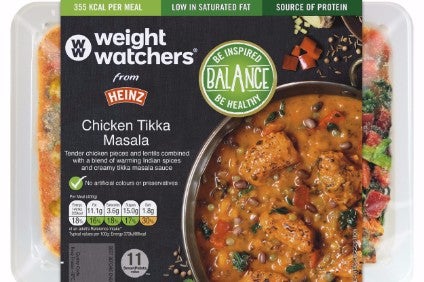 Kraft Heinz is rolling out a new range of Weight Watchers frozen ready meals in the UK.
The Weight Watchers from Heinz Balance meals line is targeted at the health-conscious consumer rather than those focused on diet alone.
Eight meals have been developed, each low in saturated fats and have a controlled amount of salt and calories. Ranging from chicken tikka masala to Mediterranean chicken pasta, the dishes are designed to be eaten as part of a balanced diet. They will be available in UK stores from October.
"Whilst weight loss still plays a huge part in consumers' goals, a whole-life approach to being fitter, living better and feeling more confident is now as important", Kraft Heinz said.
Citing Nielsen data for the 52 weeks to 9 September, Kraft Heinz said Weight Watchers from Heinz is the second biggest frozen ready meal brand in the UK. Senior brand manager Carly Burford said the company "looked towards growing trends to bring innovation to the category".