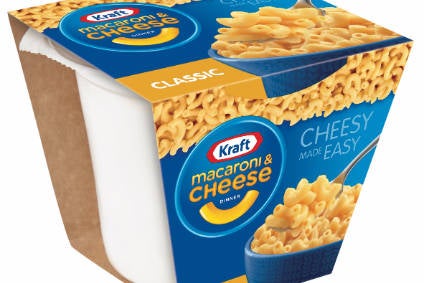 Kraft Heinz announced today (15 July) that it is launching a range of quick hot meals in the UK to boost its presence in the category.
Heinz Full of Flavour quick hot meals, which will start hitting the aisle this month, will feature microwaveable wet pots, instant pots and instant sachets.
Kraft Heinz said the move will "drive growth and innovation in the category" as well as provide retailers with "a range of convenient products to meet a diverse range of meal occasions".
The range includes Heinz Pasta microwaveable wet pots (330g), in Spanish chorizo and Italian pasta flavours. The company said the new Heinz Cous Cous instant dry pots (72g), in Mediterranean vegetable flavour, provides consumers with an alternative grain option. The new Heinz Noodles instant dry sachets (44g) come in aromatic Thai flavour while the Heinz Pasta instant dry sachets (58g), in tomato and mascarpone flavour, "offer superior taste in a category which is currently underperforming (-7%)", the company said.
Following the launch of Kraft Macaroni & Cheese frozen ready meals in the UK last April, Kraft Heinz said it is now also offering the Kraft Macaroni & Cheese wet pot as "as a quick evening meal option". The wet pots will also be available in Classic, Chipotle, Bacon and Chorizo flavours.
According to Kraft Heinz, the quick hot meals category is currently worth GBP269m (US$361m) and is in +1.2% growth "as increasingly time-poor consumers need a quick meal but refuse to compromise on taste".
Senior brand manager at Kraft Heinz Matt Mill said the decision to introduce a range of quick hot meals followed extensive consumer research.