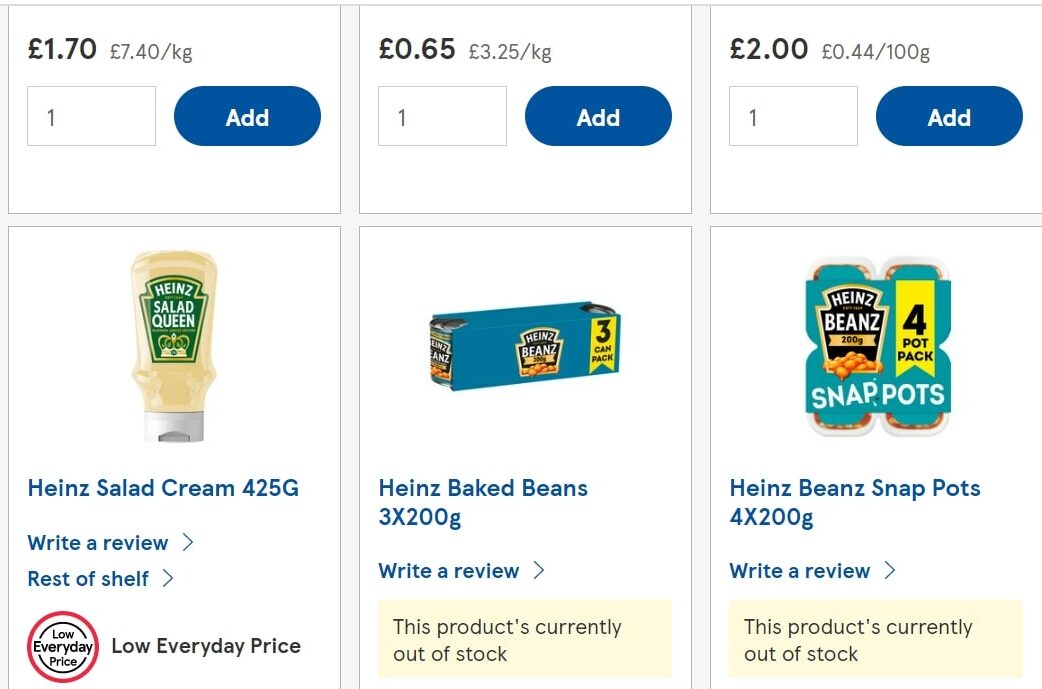 Kraft Heinz has halted the supply of certain products to Tesco stores in the UK after the two companies failed to reach a deal on prices.
The US food giant did not specify which SKUs it is no longer supplying to the UK's largest grocer.
However, at the time of writing (29 June), the tesco.com website was showing some Heinz-branded products as being "out of stock".
Kraft Heinz said it is "working closely with Tesco to resolve the situation as quickly as possible".
The company told Just Food: "In today's challenging economic environment – with commodity and production costs rising – many consumers are working within tight budgets. We always look at how we can provide value through price, size and packs so consumers can enjoy the products they love and trust at a price point that works within their budgets, without compromising on quality. We are confident of a positive resolution with Tesco."
Food manufacturers the world over are having to cope with a range of inflationary pressures, with the cost of ingredients, packaging, transportation and energy all going up.
Retailers, meanwhile, are faced with shoppers dealing with levels of inflation not seen for at least a decade. The latest figures issued today (29 June) by trade body The British Retail Consortium showed food inflation hit 5.6% in June, its highest level for more than ten years.
Speaking at an investor conference earlier this month, Kraft Heinz CFO Andre Maciel said the company had experienced "high teens" percentage growth in costs in the first quarter of 2022.
"We can hedge about 30% of our cost of goods sold. This is the exposure to commodities. For that piece, we are covered through Q4, which should give us a lot more predictability," Maciel told the conference, which was hosted by Deutsche Bank.
"The piece that is not commodity-driven, a good portion of that is locked in contracts, so that also should reduce the amount of volatility. Obviously, we are not immune to changes but, relatively speaking, they are not as material any longer given where we are already in the year."
At the same conference, Rafael Oliveira, the president of Kraft Heinz's international business, which takes in the UK, said the company had sought to raise prices in previous quarters but still saw further price hikes as one of a range of ways it could try to absorb the pressure on costs.
"We started early last year already pricing up. Now, the market has caught up and you've seen a lot of private label or some of the competition pricing as well. But then, you have a whole arsenal of other weapons to fight inflation that we've been working on," Oliveira said. "It doesn't mean that you won't price if you need to price more. It's still a very valid and important weapon in that sense but then all the other revenue management arsenal of things that we've been working on and the investments in technology that we made in the last couple of years make us very confident on the systems. A few examples are how you play with packs, how you change the pack design or pack architecture."
In the first quarter of 2022, the baked beans and soup maker generated total net sales of US$6.05bn, down 5.5% on a reported basis but up 6.8% organically. The company reported a nine percentage point benefit from pricing. Operating income and net income grew but gross profit was down year-on-year.
During 2021 as a whole, Kraft Heinz's net sales reached $26.04bn, down 0.5% on 2020. On an organic basis, the company's net sales grew 1.8%, with a 2.3 percentage point boost from pricing. Again, operating income and net income rose but gross profit fell.
A spokesperson for Tesco told Just Food: "With household budgets under increasing pressure, now more than ever we have a responsibility to ensure customers get the best possible value, and we will not pass on unjustifiable price increases to our customers.
"We're sorry that this means some products aren't available right now, but we have plenty of alternatives to choose from and we hope to have this issue resolved soon."
Earlier this month, Tesco reported fiscal first-quarter UK sales – excluding VAT and fuel – of GBP9.88bn (US$11.97bn), which represented a 1.% fall on a like-for-like basis. On a three-year stack, like-for-like sales were up 9.7%.
At the time, Tesco chief executive Ken Murphy said: "Although difficult to separate from the significant impact of lapping last year's lockdowns, we are seeing some early indications of changing customer behaviour as a result of the inflationary environment. Customers are facing unprecedented increases in the cost of living and it is therefore even more important that we work with our supplier partners to mitigate as much inflation as possible."
In Tesco's full 2021/22 fiscal year, UK like-for-like sales rose 0.4%. Adjusted operating profit from the retailer's UK and Ireland operations stood at GBP2.48bn, up 35.4%.
According to the most-recently published market share figures from Kantar, Tesco accounted for 27.1% of the UK grocery market in the 12 weeks to 12 June. During the period, Kantar said UK grocery inflation – which also takes in non-food products – reached 6.7%.
Just Food analysis: The pricing predicament – food brands in an inflationary climate