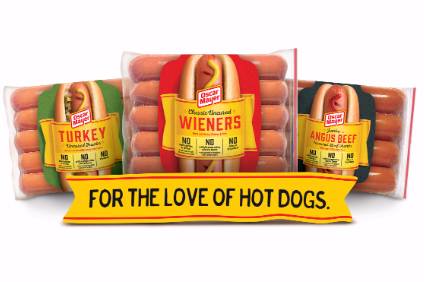 Kraft Heinz is revamping its Oscar Mayer hot dogs brand in the US to make the range "the first to market with no added nitrates or nitrites, no artificial preservatives in their meat, and no by-products".
The company said yesterday (1 May) the removal of nitrites, except those naturally occurring in celery juice, follows "more than a year of recipe testing and tinkering".
Oscar Mayer head of marketing Greg Guidotti said: "We heard from hot dog fans across the country that they wanted a hot dog without artificial preservatives in meat or added nitrates and nitrites… without compromising on taste. Oscar Mayer is the first national brand to do it across every single one of our hot dogs, and we did this without changing the price to our consumers."
In January, in the UK, Kraft Heinz further cut the salt in the Heinz tomato ketchup on sale in the UK that contains lower levels of salt and sugar than the standard variant.