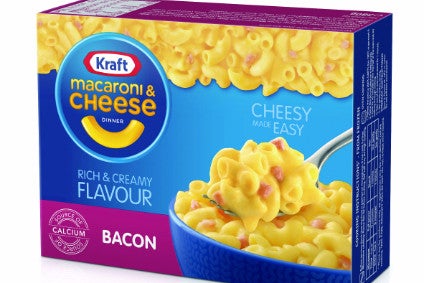 Kraft Heinz reported higher first-quarter operating earnings on "faster" than expected margin improvements and slightly higher sales volumes.
Late yesterday (4 May), the US company said operating income increased 197.2% to US$1.51bn in the three months to the end of March. Adjusted for the impact of the merger between Heinz and Kraft Foods, EBITDA rose 21.3% to $1.95bn.
Net sales were $6.6bn, down 3.8% versus the year-ago period. Kraft Heinz attributed the decline to a negative 4.5 percentage point impact from currency and a negative 0.4 percentage point impact from divestitures.
On an organic basis, however, revenues increased 1.1% year-on-year. Pricing contributed 0.3% to the gain while volume/mix rose 0.8%. Kraft Heinz said it saw "strong growth" in condiments and sauces globally.
"We've had a solid start to the year. Our savings are coming in faster than anticipated and we're performing better where it matters most, with our customers and consumers in the marketplace," said Kraft Heinz CEO Bernardo Hees. "But we still have a lot of work ahead. Consumption trends in a number of our core categories remain challenging and we're entering a critical phase in our North American supply chain integration. As we implement our plans, we will keep our focus on profitable growth while continuing to put our consumers first."
Reflecting on the results, Athlos Research analyst Jonathan Feeney said Kraft Heinz beat expectations on both earnings and the "enormous" cost savings it was able to deliver.
On the positive sales volume, Feeney added: "Even with some benefit from pipeline fill, Easter, and alternative channels, we thought we were a way off from seeing that phrase in a Kraft Heinz press release. Solid innovation and sales execution are apparently having an impact, while Kraft's portfolio is proving more capable of volume growth than Heinz's did in the early days of 3G's ownership."