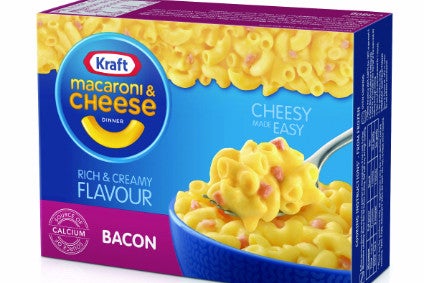 Kraft Heinz is to debut in the UK frozen ready meal category with the launch of Kraft Macaroni & Cheese.
The product, it claims, is the "number one" macaroni and cheese brand in the US, consumed by 50% of the American population.
It will be available at retailers across the UK this month in three variants: classic, bacon and chorizo.
In a statement Kraft Heinz said the launch targeted consumers looking for a "convenient, portable meal that offers reduced prep time [and] meets the need of consumers as they become increasingly time poor".
Matt Mill, senior brand manager at Kraft Heinz, said: "We're extremely proud of our Macaroni & Cheese, which showcases our American heritage – the home of Mac and Cheese. Perfect for consumers looking for something thoroughly indulgent, the launch of Kraft's comforting cheesy dish will help retailers meet consumer demand for American cuisine, whilst catering to the needs of time sensitive consumers. The launch of one of America's most trusted brands will help to drive the UK frozen ready meal category – delivering on quality, price, portion and taste."
Kraft Macaroni & Cheese will have a price point of GBP1.99 (US$2.81)