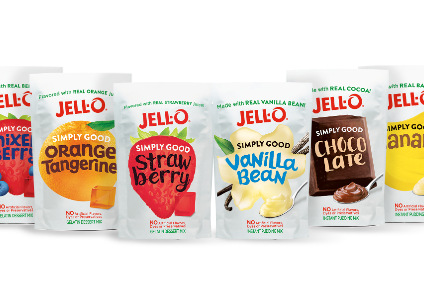 Kraft Heinz is adding a new line of products to its US pudding mix brand Jell-O that contain "real ingredients".
Jell-O Simply Good pudding and gelatin mixes are made using ingredients like banana, cocoa and vanilla bean. The gelatin mixes are flavoured with fruit juices, the company revealed. Jell-O Simply Good contains no artificial flavours, dyes or preservatives, Kraft Heinz revealed.
"Jell-O Simply Good was inspired by real kids who surprised us with their honest, unprompted feedback about artificial ingredients," said Nicole Kulwicki, head of marketing for Jell-O. "Our goal with the new line is to provide a choice for parents and kids who are looking for products with simpler ingredients. What we're most excited about is that we're still delivering the delicious and fun, colourful flavours that have made Jell-O a part of families' memories for generations."
The line of gelatin mixes consist of four flavours: strawberry, mixed berry, orange-tangerine and pineapple orange. The line of pudding mixes also includes four varieties: vanilla bean, chocolate, banana and chocolate caramel.
The range is available throughout the US with an RRP of US$1.59.