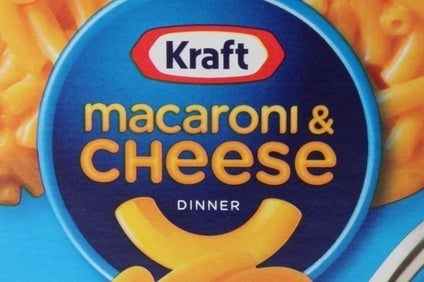 Kraft Foods Group is to remove synthetic colours and artificial preservatives from its Original Macaroni & Cheese line in the US.
The company said consumers wanted "simpler ingredients". Starting next January, the line will go on sale without the ingredients. Kraft said it would replace synthetic colours like Yellow 5 and 6 "with those derived from natural sources like paprika, annatto and turmeric".
The move is part of Kraft's decision to have all Mac & Cheese lines in the US on sale without synthetic colours and artificial preservatives throughout 2016.
"We've met with families in their homes and watched them prepare Kraft mac and cheese in their kitchens. They told us they want to feel good about the foods they eat and serve their families, including everything from improved nutrition to simpler ingredients," Triona Schmelter, vice president of marketing for Kraft's meals arm, said.
The changes announced today (20 April) follow earlier moves by Kraft to remove artificial ingredients. This year, it pulled artificial preservatives from its Kraft Mac & Cheese Boxed Shapes line.
US consumer watchdog The Center for Science in the Public Interest, an opponent of the use of artificial colours, welcomed the moves.
"As consumers increasingly try to find dye-free foods, it's increasingly going to be in the economic self-interest of Kraft and other food manufacturers to get rid of artificial dyes. Kraft's Macaroni and Cheese isn't a health food," CSPI executive director Michael Jacobson said. "But replacing its Yellow 5 and Yellow 6 with natural colourings is a step in the right direction that will help families with children avoid the hyperactivity and other behavioural problems triggered or exacerbated by the chemicals."
Kraft, meanwhile, has also announced a change to the recipe of its Kraft Dinner Original line in Canada, which will no longer have synthetic colours by the end of next year. However, the company said there will still be some Mac & Cheese lines on sale in Canada containing artificial colours at the end of next year.