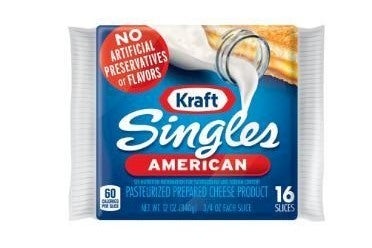 Kraft Foods Group will display the 'Kids Eat Right' campaign logo on its Kraft Singles cheese from next month despite controversy about the relationship between the US giant and the association behind the logo.
The logo's credibility has been thrown into question after it was reported there is a partnership between awarding public health body The Academy of Nutrition and Dietetics and Kraft.
As part of the arrangement, Kraft reportedly agreed to provide money for a grant to be used at the academy's discretion for scholarships research or public education initiatives. Kraft declined to disclose financial details of the agreement when questioned by just-food.
Academy members have reportedly asked the academy to cut ties with Kraft and disclose the terms of the agreement.
A spokesperson for the academy insisted its materials and initiatives were "in no way influenced" by its sponsors.
"The academy understands that the public may perceive this as an endorsement, so we are working diligently to clearly and effectively communicate that our intention is to drive the public to our Kids Eat Right website and in no way provide any endorsement or seal of approval of the product on which the Kids Eat Right logo appears.
"This is in no way an endorsement or a seal of approval for Kraft Singles. Rather, it is Kraft displaying their support of our Kids Eat Right programme, reaching approximately 80% of US households and more than 20m consumers," the spokesperson said.
Meanwhile, Kraft has confirmed it will display the Kids Eat Right logo on packages of Kraft Singles across the US next month.
"We have been clear Kraft Singles is a proud supporter of Kids Eat Right and this collaboration with the Academy of Nutrition and Dietetics is to raise awareness of the importance of dairy, vitamin D and calcium in kids' diets," a Kraft spokesperson said.