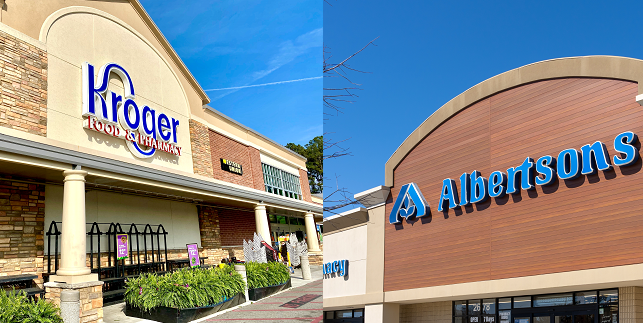 Kroger and Albertsons have confirmed market speculation in a merger of the US grocery giants with combined sales of more than US$200bn.
Under a "definitive agreement" approved by both boards of directors, Kroger will acquire all of Albertsons' shares for $34.10 each, implying a total enterprise value of $24.6bn, in line with earlier market expectations.
Rodney McMullen, Kroger's chairman and CEO, will hold the same positions at the combined company.
"We are bringing together two purpose-driven organisations to deliver superior value to customers, associates, communities and shareholders," McMullen said in a statement today (14 October). "This merger advances our commitment to build a more equitable and sustainable food system by expanding our footprint into new geographies to serve more of America with fresh and affordable food and accelerates our position as a more compelling alternative to larger and non-union competitors.
"We believe this transaction will lead to faster and more profitable growth and generate greater returns for our shareholders."
Neil Saunders, a managing director of UK-headquartered research and analytics provider GlobalData, said the merger consolidates Kroger's position as the second-largest US food retailer behind Walmart.
The combined entity will control around 11.8% of the food and grocery market, still below Walmart's 17.1%.
"In a market where margins are under pressure, the additional scale is useful for Kroger as it improves economics through better buying power. This is critical at a time when inflation is acting as a drag on both the top and bottom lines," US-based Saunders at Just Food's parent company said.
"Heightened competition from Walmart and the value chains – all of which are taking a more aggressive stance on price – and from new entrants like Amazon, necessitates a greater investment in prices and propositions. Both Kroger and Albertsons are capable of managing this alone, but the larger, merged business will have more financial firepower."
Kroger said the $34.10 price tag may decrease "subject to the outcome of a store divestiture process" and the "per-share value of a newly-created standalone public company, SpinCo, that Albertsons is prepared to spin off at closing in conjunction with the regulatory clearance process".
Albertsons and Kroger employ more than 710,000 staff and operate 4,996 stores between them. Combined, they also have 66 distribution centres, 52 manufacturing plants, 3,972 pharmacies and 2,015 fuel centres.
Vivek Sankaran, the CEO of Albertsons, added: "Together with Kroger, our combined iconic banners will be able to provide customers with even more value and greater access to fresh food and essential pharmacy services. Given the similarities in the culture and values at Kroger and Albertsons Cos., I am confident that the combination will also have a positive impact on our associates and the communities we are proud to serve."
Saunders said: "From Albertsons' point of view, Kroger's superior expertise in private-label development, its advanced e-commerce operations, and its customer insights programme are all major advantages that can help the group's various banners. This is also a win for Ocado, the UK grocery and technology firm that partners with Kroger, as there is now scope to roll out Ocado's automated warehousing kit further and faster."
The transaction remains subject to regulatory approval and will entail both Kroger and Albertsons cutting stores.
"Kroger and Albertsons Cos. have agreed to work together to determine which stores would comprise SpinCo, as well as the pro-forma capitalisation of SpinCo," the statement read.
"The establishment of SpinCo, which is estimated to comprise between 100 and 375 stores, would create a new, agile competitor with quality stores, experienced management, operational flexibility, a strong balance sheet, and focused allocation of capital and resources to provide customers with continued value and quality service and associates with ongoing compelling career opportunities."
On a combined basis, the companies delivered in fiscal 2021 $210bn in revenue, $3.3bn in net earnings and $11.6bn of adjusted EBITDA.
Saunders added: "There may be some regulatory concerns about the merger. However, these are mostly local issues where a merger produces a very high market share in certain areas. From a broader national perspective, a combined Kroger and Albertsons does not pose any major threat to the competitive dynamics of the market. Indeed, scale is necessary to deliver the prices and investments that consumers demand."