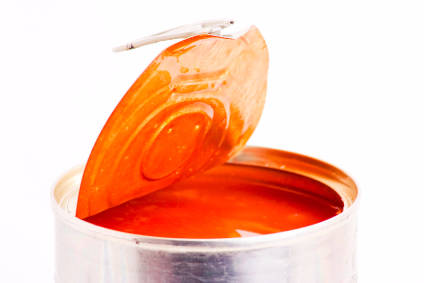 La Doria and Feger, two Italian exporters accused of dumping canned tomato products in Australia, will be served dumping duties, the Australian government has confirmed.
In a statement issued yesterday (11 February), the Anti-Dumping Commissioner has recommended dumping duties be applied to Feger and La Doria canned tomatoes of 8.4% and 4.5% respectively. This is the second dumping decision regarding Italian tomatoes and now means that all canned tomatoes from Italy are subject to anti-dumping measures.
Last year SPC Ardmona accused the two of dumping product into Australia, a move which saw the commission launch a probe into whether products were exported at less than the normal value of the lines and had caused "material injury" to local manufacturers.
"This ruling will ensure that Australia's only canned tomato producer, SPC Ardmona, can now compete equally in Australian stores and supermarkets," said Minister for Industry, Innovation and Science, Christopher Pyne.
"Feger and La Doria are major competitors in the Australian market. The Australian government is committed to a strong and robust anti-dumping system. The suite of reforms recently introduced by this government strengthened our system to ensure Australian manufacturers and farmers are competing with imported goods on a level playing field," he continued.
The suite of reforms include better support for Australian businesses engaging with the system, measures to crack-down on uncooperative exporters, introducing measures to address circumvention of duties and improving the operational effectiveness of the Anti-Dumping Commission. Pyne added Australian tomato growers would also benefit from a fairer economic environment, potentially selling more of their product to local processors.
La Doria and Feger could not be reached at time of press.