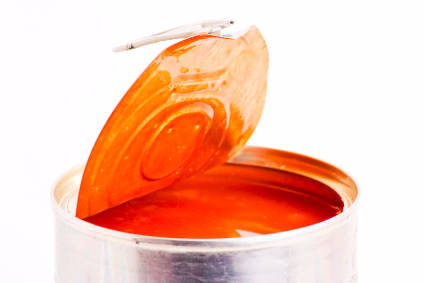 La Doria has said it will take action against the Australia government's ruling to impose anti-dumping duties on the Italian tomato supplier.
Last week, Australia's Anti-Dumping Commissioner recommended dumping duties be applied to canned tomatoes made by two Italian companies Feger and La Doria. The body proposed duties of 8.4% and 4.5% respectively.
The move followed the two groups being accused of dumping products into Australia. A complaint from local group SPC Ardmona saw an investigation open last year into imports from the two companies.
In 2013, the Anti-Dumping Commission found 103 were illegally dumping products in the country and the exporters are now paying dumping duties. La Doria and Feger were the two remaining exporters.
"La Doria is very astonished and disappointed," said a spokesperson for the company. "First of all, we were already subject to an anti-dumping investigation in 2013/2014. On that occasion the Australian Anti-dumping Commission terminated the procedure concluding that our margins were below the de minimis levels so no new investigation should have been initiated in 2015. Notwithstanding the above, La Doria has been co-operative also during the second procedure, even if the latter entailed extremely burdensome and costly activities.
"The only reason that has led to the application of an anti-dumping duty…is that the Australian Anti-Dumping Commission [in the second investigation] allegedly considered European aids to farmers as direct aids and therefore they have been used to increase the normal value of goods (sales price on the domestic market) which is used as a comparison with the sales prices charged by the company on the Australian market. This calculation is completely erroneous as European aids are decoupled and fully in line with WTO rules.
"In conclusion, we will continue in our actions in defence of our positions by bringing an action against the measure adopted. Our position has full support of the Italian government and the European Commission."