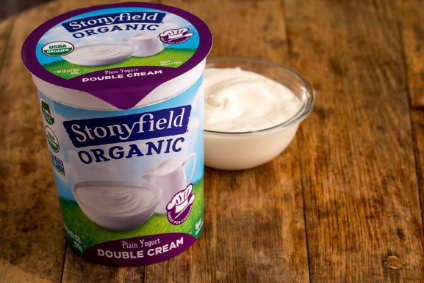 Privately-owned French dairy giant Lactalis has entered into an agreement to acquire US organic dairy business Stonyfield from Danone for US$875m.
The business generated a turnover of approximately $370m in the 12 months, Danone revealed this morning (3 July). The final purchase price represents 20 times Stonyfield's 2016 EBITDA.
According to MainFirst analyst Alain Oberhuber the transaction value is "above the median" for dairy transactions, which he said stands at 10.5 times EBITDA, but below the level Danone paid for WhiteWave Foods of 23.9 times EBITDA. "Even if the multiple seems to be high, the transaction price looks reasonable for an organic milk business," he wrote in an investor note.
Danone agreed to sell Stonyfield with the US Department of Justice to settle competition concerns arising from its $12.5bn acquisition last year of WhiteWave Foods. The sale reportedly attracted the interest of Mexico's Grupo Lala and China's Inner Mongolia Yili Industrial Group, while US dairy giant Dean Foods was also tipped as a suitor.
"The closing of the divestiture is subject to customary conditions, including final approval by the DOJ, and is expected in the third quarter of this year," Danone said in a statement today.
Lactalis operates in the US via its subsidiary, Lactalis Americas Group. The company offers French and Italian cheeses under its President and Galbani brands in the market.