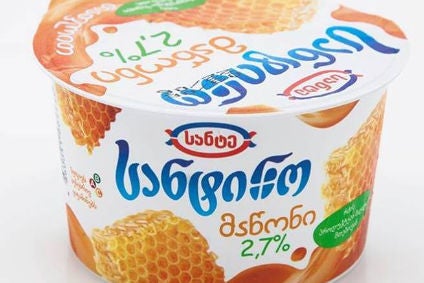 Lactalis has become a shareholder in Sante, a dairy company in the former Soviet republic of Georgia.
The French dairy giant, which has been making a series of investments in emerging dairy markets, disclosed its move today (3 February).
Latcalis said it had become "one of the largest shareholders" in Sante but did not reveal the size of its stake nor how much it paid for its shareholding.
Sante is "a leader" in Georgia's dairy market, Lactalis said, selling products under brands including Sante, Santino and Santissimo. The company also markets "the only Georgian cheese brand", Sanebo, Lactalis added.
"Becoming one of the largest shareholders of Sante, Lactalis will enable the company to bring Georgian products to world markets, develop local milk and dairy production, and make an important contribution to the development of Georgian economy. Participation of Lactalis in the production of Georgian dairy products will be an important signal for international investors for future investments in Georgia," Lactalis said.
Last week, Lactalis, the world's second-largest dairy group by sales, agreed a deal to buy a majority stake in Albalact, the Romanian dairy group.
In May, Lactalis announced a move to acquire a controlling stake in Turkish dairy Ak Gida from Yildiz Holding.
In February, Parmalat, the Italian dairy group controlled by Lactalis, signed an agreement to buy cheese makers in Mexico.
Lactalis made three acquisitions in emerging markets in 2014. It struck two in Brazil through Parmalat, buying bankrupt Brazilian dairy Lácteos Brasil, as well as 11 dairy plants owned by BRF.
In January of that year, Lactalis entered India, buying local business Tirumala Milk Products.