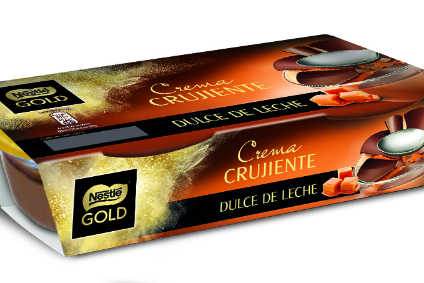 Dairy venture Lactalis Nestle is expanding its Spanish product range with the launch of a dessert line under the Nestle Gold sub-brand.
The Crema Crujiente, or "crunchy cream", desserts will be available in Spain this autumn. It "combines a crisp sheet of chocolate" and " soft cream with chocolate or dulce de leche", the business said.
In addition to the two new desserts, Lactalis Nestle produces Nestle Gold Crujientes mousses in three flavours: chocolate, vanilla and caramel.
The new products are chilled desserts that will be available in the refrigerated aisle of supermarkets throughout Spain.
Yogurt, dairy dessert and drinks is the second-largest category in Spain's chilled and fresh foods market, accounting for 21.4% of the market in 2015. According to research firm Mintel, the largest companies operating in the category alongside Lactalis and Nestle are Danone and Postres Reina. Own label products are also well represented in the market.
Nestle and French dairy giant Lactalis set up the Lactalis Nestle venture in 2006.