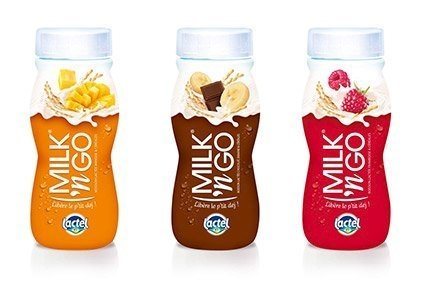 Lactalis will next month launch a breakfast drink, Milk'n Go, in France.
Milk'n Go, sold under the company's Lactel brand, will go on sale in major French supermarket chains from 2 March and be available in three flavours – raspberry, mango and chocolate-banana – and contain fruit and cereals.
Étienne Verdier, Lactel's director of sales development, said: "There has been a fall-off in basic milk consumption among young people and young adult couples, which reflects a general disaffection with the current product offering and this extends to breakfast cereals too. There is also a preference for flavoured milk drinks and for consumption in an 'as you go,' form," Verdier said.
"We feel we're … giving French consumers what they are looking for. The marketing pitch with this product is to point consumers towards a new way of consuming milk. To my knowlege, there is nothing on the French market today which is comparable to Milk'n Go."
However, Verdier would not drawn on what other breakfast drinks are on sale in France nor outline the scale of the category in the country.
While Lactalis has no plans at present to market Milk'n Go outside of France, Verdier revealed launching the product in other European countries remained an option in the mid term.