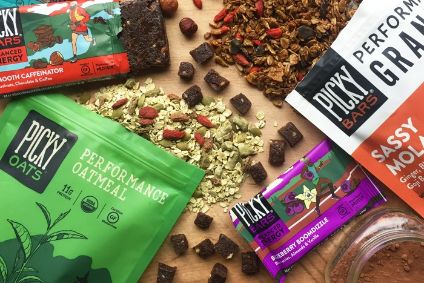 US-based drinks, creamers and protein-powder business Laird Superfood has snapped up local breakfast-cereal and energy-bar firm Picky Bars.
Laird Superfood, which was formed in 2015 and floated in New York last year, has paid around US$12m in a cash-and-shares deal for Picky Bars, a business with the bulk of its revenue made through selling directly to consumers.
Set up by a trio of professional athletes in 2010, Picky Bars sells products including Blueberry Boomdizzle energy bars and How 'Bout Dem Apples Performance Oatmeal. Some 95% of the Oregon-based firm's sales are generated through direct sales. The company does sell into retailers including Whole Foods Market and King Soopers.
"Part of the excitement of joining the Laird Superfood family is the scale offered by expanding into their wholesale customer base," Picky Bars told just-food. "With our roots deeply centred in the Pacific Northwest, naturally, that's where we see most of our sales and distribution coming from. Joining forces with Laird Superfood really helps us get our mission, products and message to such a wider audience faster, and we're really excited about that."
Laird Superfood is paying approximately $10m in cash and $2m in "restricted stock" to buy Picky Bars. The companies declined to disclose their annual sales. However, Laird Superfood said the purchase price "represents an acquisition multiple of approximately 1.2x estimated 2022 revenue".
In a statement, Laird Superfood CEO Paul Hodge said: "This is an exceptional foundation to build on the many synergies we anticipate from this acquisition, starting with the immediate expansion of our brand platform in the massive bars and snacks category, where we believe consumers are increasingly picky and seek whole food, healthier bar choices as well as sustainable options.
"Other immediate synergies include the cross-selling opportunities across both direct-to-consumer platforms, as we believe these incredible products will resonate particularly well with our existing and loyal customer base, as well as the wholesale opportunity, as we intend to leverage our existing relationships of over 7,000 retail doors to accelerate placement of Picky products on shelf."
He added: "We are excited about augmenting the Laird Superfood brand platform with a snack-bar price point which supports expansion into new retail segments like convenience and drug stores, further extending that brand platform to yet another new audience."
Alongside the drinks, creamers and protein powders in the Laird Superfood's product range are dates and nuts sold in pouches.
Danone is an investor in Laird Superfood through the French giant's Danone Manifesto Ventures vehicle. According to Laird Superfood's latest annual report, issued in March, Danone Manifesto Ventures has a beneficial ownership in Laird Superfood of 13.4%.
In 2020, Laird Superfood generated net sales of $26m, almost double that booked in 2019. The company made a loss from operations of $12.9m, compared to $8.8m a year earlier, amid higher cost of goods sold, an increase in general and administrative expenses and more spending on sales, marketing and R&D.
Laird Superfood made a net loss attributable to common stockholders of $14.5m in 2020, versus $1.1m in 2019.