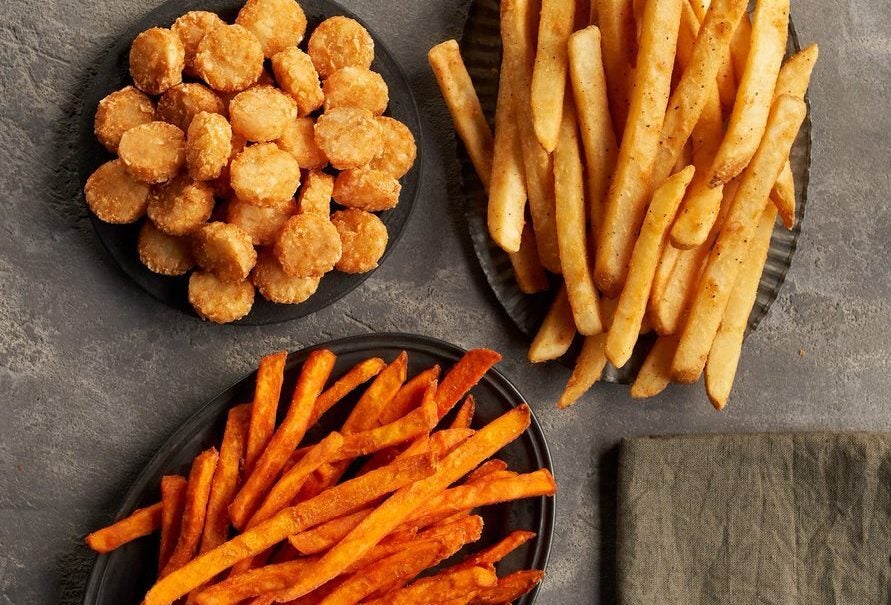 Potato-based foods manufacturer Lamb Weston Holdings is looking to its product mix to satiate changing consumer habits while mitigating supply issues.
The demand for potato products in retail remains "solid", according to CEO Tom Werner, while casual dining volumes have seen some "softness".
Growth in the retail sector has been led by restaurant-branded chips, as consumers are choosing to dine out less but seek similar style products to cook at home.
But a switch up in product mix to meet these demands, coupled with supply-chain disruptions and raw material shortages, has caused some volume issues for the US-based business.
Lamb Weston has seen higher demand for its "premium fries" and batter-coated products, which take longer to produce.
Speaking to analysts yesterday (5 January) after Lamb Weston posted its second-quarter financial results, Werner said: "There are some capacity disadvantages to running premium products. That's just a fact. However, I think the mix of the portfolio bodes well going forward for the profitability of the company."
Batter-coated chips, for example, are "a high-growth and high-margin segment of the category" but necessitate slower line speeds and more rigorous cleaning between production runs, Werner explained.
"This results in fewer finished pounds produced relative to making uncoated fries, which ultimately leads to pressure on our customer order fill rates," he said.
The comments came as Lamb Weston hiked its annual sales, gross margin and earnings targets for the year after its fiscal second-quarter 2023 results. The company reported second-quarter sales growth of 27% year-on-year to $1.28bn. Its healthy predictions led to a share price spike yesterday, peaking at more than $96, up 8% on the day.
Lamb Weston increased its sales target to between $4.8bn and $4.9bn, up from the previous figure of $4.7bn to $4.8bn. "We expect that higher price/mix will be the primary driver of sales growth in the second half of the year," CFO and executive vice president Bernadette Madarieta told analysts.
However, Werner said forecasting volumes in the second half "remains difficult". "We anticipate shipments will continue to be affected by supply chain constraints through fiscal 2023 because of volatility surrounding a potential slowdown in restaurant traffic and demand as consumers face inflation and a weaker macroeconomic environment," he said.
On key commodities, Werner said availability "has slowly improved over the past couple of quarters as we broadened our supplier base and qualified substitute ingredients when possible".
But he added: "It remains a concern, and we expect it will continue to affect our production volumes at least through the remainder of fiscal 2023."
Conagra enters "margin-recovery phase" as COGS inflation outlook cut