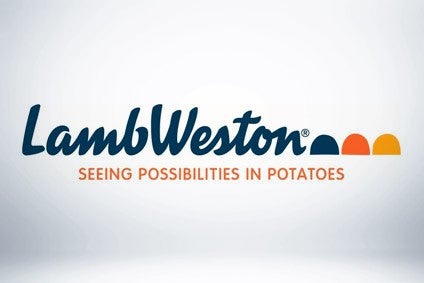 Potato products manufacturer Lamb Weston Holdings said the business environment remains "volatile", warning signs of improvement in the foodservice market remain "fragile" amid rising cases of Covid-19 in regions such as the US and Latin America.
The french fries maker generates 10% of its annual sales through McDonald's alone and makes the majority of its revenue in a foodservice industry that largely closed down in markets worldwide in April and May to stop the spread of the novel coronavirus.
Although the foodservice channel started to open up in more markets by late May and into June and July, Idaho-based Lamb Weston said it is not providing an outlook for its new financial year, which started on 1 June, because of the "unpredictable effect of the pandemic on fry demand in North America and our key international markets".
Reporting its fourth-quarter and full-year results yesterday, Lamb Weston said its quarterly net sales were down 16% year-on-year to US$846.9m. The company booked a loss of $1.6m, against net income of $110.4m in the fourth quarter of the previous fiscal period. Adjusted EBITDA was down 64% to $78m.
Lamb Weston said it had taken actions and will "continue to evaluate various options," to lower its cost structure and "maximise the efficiency of its manufacturing and commercial operations", in light of the prevailing operating environment. The measures include reduced contracting of raw potatoes by approximately 20-25% for the 2020 crop year, compared with its 2019 crop year purchases.
The company's shares closed down 11.46% yesterday, reaching $62.42.
In a post-results call with analysts, Lamb Weston chief financial officer Rob McNutt said: "The business environment remains volatile, especially in the US where increases in Covid cases have recently led government authorities in a number of states to reinstate restrictions on restaurant and foodservice outlets. We believe these actions may slow or possibly even reverse, some of the recovery in fry demand."
In the first seven weeks of Lamb Weston's new financal year, the company said its "shipments-to-date" in the US were approximately 85% of what it achieved a year ago. Shipments to large chain restaurant customers, mainly quick service restaurants, stood at 85-90% of prior-year levels "during the most recent weeks of the quarter", Lamb Weston said.
The company's Foodservice division, which includes products ultimately sold to full-service chain and independent restaurants, regional and small QSRs, and "non-commercial" customers – such as hotels, schools and universities, and sporting venues – have "gradually improved" during the new quarter, Lamb Weston said, recovering to 70-75% on a year ago during the most recent weeks of the quarter.
By contrast, shipments to retail customers "during the most recent weeks are trending up 5-10%" compared with a year ago, Lamb Weston said. It noted how "consumer trends to increase food-at-home purchases begin to normalise".
In Europe, where Lamb Weston does business through its Lamb-Weston/Meijer venture, shipments were at approximately 75% of those seen last year but had "gradually improved as the quarter progressed".
In China, shipments to-date are approximately 85% of prior-year levels, with monthly shipments improving from about 80% in May to more than 95% in the most recent weeks.
McNutt added: "To be clear we believe that this improvement remains fragile, as Covid cases continue to rise in the US and in Latin America. We are currently seeing evidence of orders slowing after some states recently placed restrictions, for on-premise dining at restaurants. We expect that this high degree of uncertainty will likely continue, until the pandemic has ended and consumer confidence has been restored."
Chris Growe, an equity analyst covering Lamb Weston for US investment bank Stifel Nicolaus, said the company's update on the early weeks of its new first quarter was "largely in line with our expectations and improving in recent weeks, providing some encouragement".
Nevertheless, Growe said the bank had lowered its forecast for Lamb Weston's full-year EBITDA due to the "slow rebuild in sales here, with the first three quarters likely to showcase lower sales versus the prior year, before the very easy comparison of the fourth quarter kicks in".
He wrote in a note to clients yesterday: "The stock price decline today fits with our lowering of our EBITDA estimate (to $731m) and we see the shares treading water as we get more proof-points on the sales recovery. We believe the shares will remain volatile in recognition of the varying datapoints emerging on restaurant sales in the US and abroad."