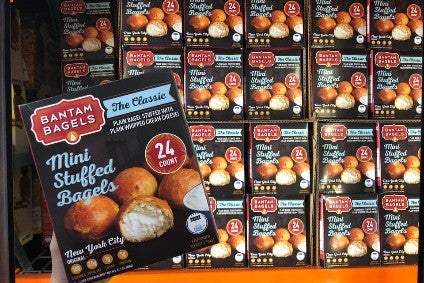 US food group Lancaster Colony has closed a US$34m deal for New York-based Bantam Bagels.
The transaction, which was completed on 19 October, for the producer of frozen mini stuffed bagels and mini stuffed pancakes was conducted through Lancaster Colony's wholly-owned subsidiary T. Marzetti Company, and was funded with "cash on hand".
Bantam Bagels, which serves retail and foodservice channels including Starbucks, generates annual sales of $20m and was founded in 2013 by husband and wife team Nick and Elyse Oleksak. The "acquisition on Lancaster Colony's earnings per share is expected to be about neutral for the current fiscal year ending 30 June, 2019," the company said in a statement late yesterday (22 October).
"In addition to the base purchase price of $34m, which is subject to post-closing adjustments, the transaction also includes contingent consideration in the form of an additional earn-out payment that is tied to the future financial performance of the business," the statement from the Ohio-based firm read.
Lancaster Colony said the acquisition will complement its own New York Brand Bakery and Sister Schubert's labels.
Dave Ciesinski, the chief executive of Nasdaq-listed Lancaster Colony, said: "Bantam Bagels is a fast-emerging company that provides us with an entry into the large and growing frozen breakfast category. Their established relationship with Starbucks in the foodservice channel is another positive that positions Bantam Bagels for future expansion."