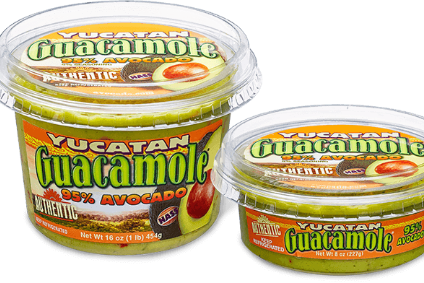 US health and wellness business Landec Corp. has acquired Yucatan Foods, a Los Angeles-based manufacturer of Mexican-style guacamole products.
The transaction was conducted through the Nasdaq-listed firm's wholly-owned subsidiary Apio in a deal worth US$80m. Landec's business operations also encompass Landec Natural Foods (LNF) and Lifecore Biomedical.
Landec said in a statement: "The acquisition of Yucatan Foods enables Landec Natural Foods to grow, strengthen and stabilise its position in the natural-foods market, creating critical mass in LNF to better position Landec to evaluate long-term strategies for the company's two business segments in order to maximise shareholder value."
Yucatan was founded in 1991 and supplies retailers and foodservice outlets in the US and Canada. It has a manufacturing facility in Guanajuato, Mexico, producing its namesake guacamole products along with its Cabo Fresh brand. It generates annual revenues of around $55m to $60m.
"Yucatan Foods has the potential to deliver double-digit revenue growth over the next several years and achieve a targeted gross profit margin of approximately 30%," Landec said.
Landec's president and chief executive Molly Hemmeter said: "At Landec Natural Foods, we are re-imagining the way fresh, plant-based foods are grown, prepared and delivered. The acquisition of Yucatan Foods accelerates the transformation of our packaged fresh vegetables business to a natural foods business focused on plant-based foods.
"Not only will Yucatan Foods deliver incremental revenues and profits to Landec, but the guacamole business is a higher gross margin business that is subject to less sourcing and cost volatility than Landec's existing packaged fresh vegetable business."
The deal is expected to be accretive to Landec's earnings in fiscal 2020.
Landec's Natural Foods business sells products with 100% clean ingredients and includes the brands Eat Smart, O Olive Oil & Vinegar and Now Planting.