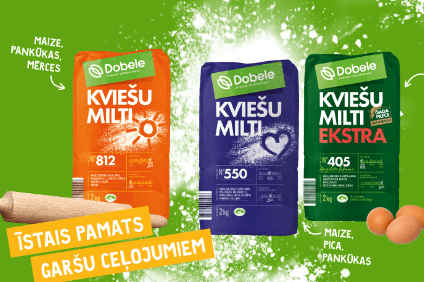 Latvian food company Dobeles Dzirnavnieks has entered an agreement to acquire Lithuania-based grain processor AB Baltic Mill, which also owns pasta producer UAB Amber Pasta.
Dobeles Dzirnavnieks is to purchase 64.75% of the shares in AB Baltic from the private-equity fund Amber Trust II SCA and will use the investment to expand domestically and in international markets, according to a statement.
A spokesperson for AB Baltic confirmed Amber Trust II SCA is a limited partnership incorporated in Luxembourg and owned by various financial institutions. But because there is no single shareholder with control of more than 20%, information about individual investors is not publicly available under local laws.
The remainder of the shares in AB Baltic will be acquired from minority shareholders, namely two private companies in Lithuania, the spokesperson said.
Financial terms of the deal, which is subject to approval from competition authorities, were not disclosed.
AB Baltic is part of the Baltic Mill Group, which operates one of the largest grain mills in Lithuania, UAB Malsena Plius, along with Rigas Dzirnavnieks AB in Latvia and Balti Veski in Estonia. UAB Amber Pasta produces wheat, wholegrain and durum wheat pasta. The firm's brands include Malsena, Gintariniai, Pasaka, Herkuless, Hercogs and Veski Mati.
The company's revenues for last year were quoted in the Lithuanian currency, the litas, and amounted to LTL56.7m (US$19.4m). It posted a net profit of EUR801,000 (US$945,387).
Dobeles Dzirnavnieks also manufactures pasta, as well as porridge and other cereals, semolina, cooking oils and baking mixes.