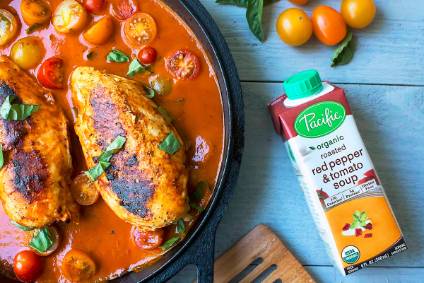 US food giant Campbell Soup Co.'s planned acquisition of natural food group Pacific Foods has been put on a hold because of pending legal action.
Campbell's announced back in July that it was to acquire Oregon-based Pacific, which makes natural and organic broths, soups, plant-based beverages and meals, for US$700m.
But on 21 August the estate of a former Pacific Foods shareholder, Edward C. Lynch, filed a lawsuit against Pacific Foods, certain of its directors and others seeking more than $250m in damages.
In a statement, Campbell's said it is not named in the suit but asserted the action creates an impediment to the deal closing. It has notified Pacific Foods the company has 60 days under the terms of the agreement to resolve the issues arising from the suit if the transaction is to be completed.
After the 60-day period, Campbell has the option to extend the period or terminate the agreement.
Mark Alexander, president of Campbell's simple meals and beverages business in the Americas, said: "We remain enthusiastic about acquiring Pacific Foods, which has a track-record of growth and strong health and well-being credentials. However, we will not complete the transaction unless the issues arising from this litigation are resolved to our satisfaction."
At the time, the acquisition was announced it was widely interpreted as Campbell's looking to increase its exposure to faster-growing health and well-being categories in the US.
Pacific Foods, founded in 1987, generated sales of approximately $218m in the 12 months to the end of May.