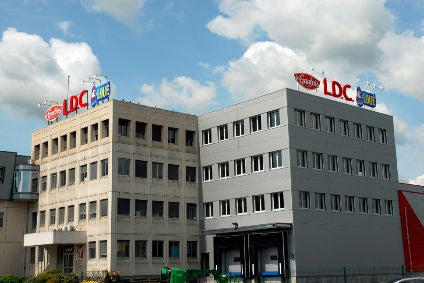 French poultry giant LDC has bought local duck supplier Marcel Favreau – and is in discussions over the acquisition of two more businesses in the field.
LDC, which markets chicken products under brands like Le Gaulois, has finalised the deal for Marcel Favreau and is in talks to also add the firms Péridy et Couthouis to its portfolio.
All three companies are based in the western French region of Vendée. Péridy et Couthouis are subsidiaries of local company Le Marais.
LDC said acquiring the three businesses would "allow the group to strengthen in speciality products benefiting from strong demand in export markets".
Marcel Favreau generates annual sales of EUR21m (US$25.7m), of which 70% is made through exports. LDC said. The business employs 42 staff.
Combined, Péridy et Couthouis have 167 workers and generate more than EUR50m in sales, LDC added. Half of those sales are made outside France.
The news was announced alongside the publication of LDC's sales numbers for the year to 28 February 2018. Turnover rose 6.9% to EUR3.83bn. On an organic basis, turnover was up 5.6% at EUR3.78bn.
LDC said "all divisions" saw growth during the year.
The group, meanwhile, is part of a consortium looking to buy distressed French poultry business Groupe Doux. The consortium, which also features Doux shareholder Terrena and Saudi group Al-Munajem, is one of two bidders, with Ukraine-based poultry supplier MHP also in the running.
The deadline for offers for Doux, which is in liquidation but can trade until the end of May, is 14 April. A commercial court in Rennes will decide on the bids on 18 May.