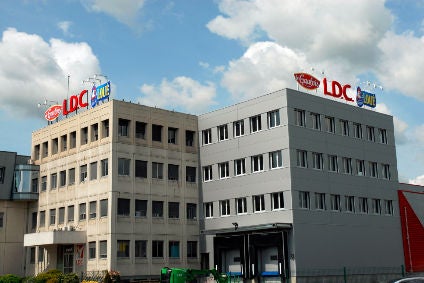 French poultry processor LDC has given warnings about the outlook for consumption and for raw materials in the coming year as it delivered an increase in full-year sales and earnings.
The company said it was approaching the coming 12 months with "caution" as a result, particularly in its poultry processing division. In its catering and international units, LDC said that it expects stronger results in fiscal 2016/17.
Over the prior 12 months, to the end of March, LDC said turnover rose to EUR3.47bn (US$3.89bn) versus EUR3.02. Sales were supported by the integration of acquired assets from France's Avril Group, which contributed to the 18.6% increase in revenues and boosted volumes by 30.1%. Excluding the impact of M&A, LDC's revenue grew 3% on a 1.5% increase in volumes.
Operating income totalled EUR160.6m, versus EUR136.8m a year earlier. Net profit rose to EUR113.8m from EUR160.6m the previous year. LDC said that it was able to report profit growth thanks to favourable comparables – it lapped a year when it registered non-reccurring charges of EUR16m.