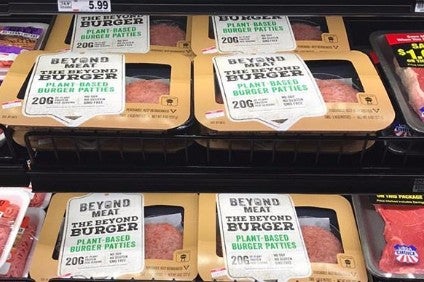 US film star Leonardo DiCaprio has invested in another fledgling local food company, adding a stake in meat-free business Beyond Meat to a portfolio that includes chickpea snack brand Hippeas.
Beyond Meat, which sells across the US and is eyeing building on its nascent international presence next year, announced the investment yesterday (17 October) but did not disclose how much DiCaprio had put into the business, nor the size of any stake he now holds.
In a statement, DiCaprio indicated his decision to invest was grounded in environmental concerns. "Livestock production is a major contributor to carbon emissions. Shifting from animal meat to the plant-based meats developed by Beyond Meat is one of the most powerful measures someone can take to reduce their impact on our climate," he said.
Beyond Meat, founded by CEO Ethan Brown in 2009, is the maker of the vegan Beyond Burger. The company says its products are now listed in 11,000 outlets in the US, including at other major chains such as Walmart, Kroger and Target.
In October 2016, US meat giant Tyson Foods bought a 5% stake in Beyond Meat. At the time, Tyson said the investment would give it "exposure to a fast-growing segment of the protein market".
Earlier this month, speaking to just-food, Seth Goldman, Beyond Meat's executive chairman, said the company was eyeing an entry into the UK in early 2018.
In May, US-based Green Park Brands announced DiCaprio had invested in its flagship business Hippeas.