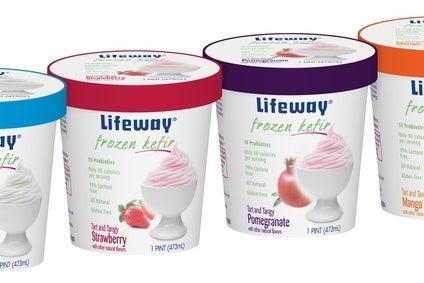 Lifeway Foods CEO Julie Smolyansky has told just-food the US cultured dairy products maker is not in discussions to sell the business.
A report in The New York Post today (20 January) claimed Lifeway was talking to investment bankers about a potential sale.
However, Smolyansky dismissed the claims as a "silly gossipy story that is not true". The Lifeway chief executive, whose late father Michael set up the business in 1986, insisted there had been "the same rumour for 28 years". She added: "I have never had a conversation about selling the company with anyone."
Julie Smolyansky became the CEO of Lifeway when her father died in 2002. The Smolyansky family still owns shares in Lifeway.
Danone is also a shareholder in the business. According to Lifeway's most recent annual report, filed with the SEC in October, Danone owned 21.1% of Lifeway as of 31 December 2013.
Industry watchers have often speculated Danone could look to bid for the rest of Lifeway, a business that has enjoyed strong sales growth in recent years.
A spokesperson for Danone in the US said the company had "not announced any interest" in buying the Lifeway.
In the first nine months of 2014, Lifeway saw its net sales increase 24.6% to US$88.8m on the back of distribution gains in the US, Canada and the UK.
However, a spike in milk costs ate into profits. Income from operations stood at $4.3m, versus $8.4m a year earlier. Net income was $2.8m, compared to $5.5m in the same period in 2013.
Speaking to analysts when the results were announced, Smolyansky highlighted an aim for 2015 was to launch its drinkable kefir line in the UK and Europe.