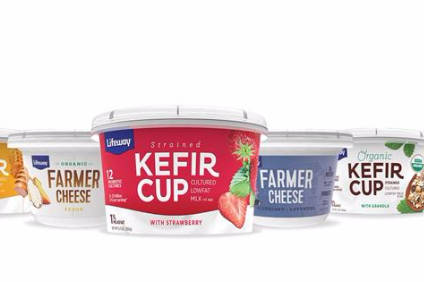 US kefir maker Lifeway Foods has launched a line of Single-Serve Farmer Cheese and Kefir Cups, Do-It-Yourself Kefir Starter and Probiotic Supplements.
Lifeway said the new range includes spoonable cupped kefir and farmer cheese products packaged in single-serve containers, 32oz Low Fat Ceremonial Matcha Kefir, Probiotic Supplements and Children's Chewables, as well as a Do-It-Yourself Kefir Starter Kit.
Lifeway CEO Julie Smolyansky said: "Our new products were developed with on-the-go customers in mind, especially busy millennials who are looking for healthy, portable snack options. Lifeway's cupped kefir and farmer cheese come in a range of flavours that can be enjoyed at home, on the road, at work, or wherever the day takes them."
"Our probiotic supplements and chewables offer convenient options for anyone, even those on strict diets, to enjoy the benefits Lifeway has to offer," Smolyansky said.
According to Lifeway, the global probiotics market is expected to reach US$57.4bn by 2022. The company said its expansion into the supplement aisle, with the launch of Lifeway ProBugs Chewables for children and Lifeway Probiotic Supplements for adults, "provides an option to reach new customers who may be looking for vegan ways to incorporate probiotics into their diets".
"Lifeway will also be pursuing new shelf space with the introduction of single serve Strained Kefir and Farmer Cheese cups," the company said.
Lifeway said its kefir cups feature "strained, low fat kefir, a fermented dairy product that is 99% lactose-free". "The flavoured kefir cup varieties are packaged in a dual cup that enables users to easily add toppings before enjoying. Lifeway's tasty farmer cheese cups come plain or blended with fruit for a convenient snack. Both the conventional and organic versions of cupped kefir and farmer cheese will come in plain and flavoured varieties with a convenient spoon for on-the-go snacking."
"All Lifeway dairy products are gluten free, have clean labels, and are filled with probiotics, which may help digestion," the company said. "Unlike many cultured products, Lifeway's products contain no carrageenan, guar gum, or soy lecithin." The company said its dairy products are made from milk produced by grass-fed cows that are not treated with antibiotics or synthetic growth hormones. "The products are cultured after pasteurisation to ensure that the cultures are 100% live and active."
In August, Lifeway announced its "highest" second quarter profits thanks to a "solid" top-line performance and "strong" margin growth. Second quarter sales increased 4.4% to $31.1m, versus $29.8m in the year-ago period.