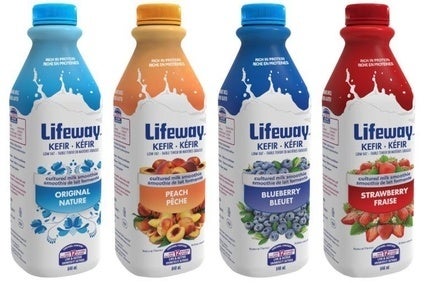 Kefir maker Lifeway Foods booked a higher first-half operating result on the back of improved margins and a slight sales rise but net income dipped on one-time charges.
The company said sales edged up 1% to US$59.4m in the period to 30 June. CEO Julie Smolyansky said the company had increased distribution but growth had been hampered by capacity constraints.
"I am pleased with our team's ability to increase distribution across retail channels fueled by new product innovation and heightened consumer awareness of LifeWay," Smolyansky said. "Our recent net sales growth was hindered by capacity constraints in our Illinois facility."
However, Smolyansky was upbeat on the group's second-half prospects with new capacity coming online. "We believe we are well positioned to benefit in the second half of 2015 from new production capacity at our Wisconsin facility which began producing kefir in June. The new production capacity will allow us to have greater flexibility in our product offerings as we continue to grow the club channels and other non-traditional grocery outlets."
Cost of goods sold fell to 72% of sales from 74% the prior year on the back of lower milk prices. Selling expenses were down 5% year-on-year, the company added. Operating profit rose to $1.5m from $1.4m in the prior year.
Net income was $0.8m versus $1m as the company lapped a one-time gain in the prior-year period related to the sale of property and equipment last year.