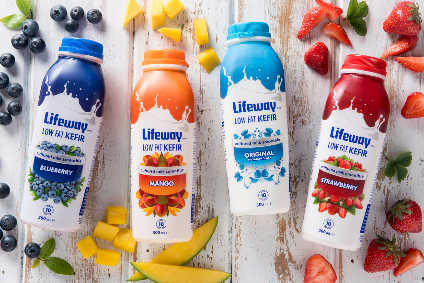 Lifeway Foods, the US-based supplier of cultured dairy products, has outlined how it plans to get its sales growing again.
The company, which saw sales fall in 2017 and has reported another year-on-year decline in the first nine months of 2018, said its new "strategic plan" would "reinvigorate growth in 2019 and over the next several years".
"We expect to deliver sustainable top-line growth based on three core strategies," CEO Julie Smolyansky said. "These include a focus on rebuilding our core kefir product distribution in new and existing sales channels, introducing product innovation for today's on-the-go consumers focused on health and wellness, and enhancing Lifeway's brand awareness and consumer loyalty.
"Over the last few months, we have aligned our organisational structure to significantly reduce costs and create efficiencies, while also continuing to make investments in people, processes, manufacturing and sales and marketing. We believe we have the right team, strategic plan, and compelling industry fundamentals to generate the growth we are confident Lifeway is capable of achieving long-term."
Work on the distribution of Lifeway's core kefir range will include looking at existing sales routes like mass, grocery and natural stores, as well as the "complementary" channels of convenience, club, foodservice, drug store, e-commerce, hospital and universities.
Innovation will focus on convenience, on probiotics and on "protein-rich" products, Lifeway said. The company noted retail sales of its single-serve, eight-ounce kefir had grown by around 39% in the first nine months of 2018 "off of a low base". Lifeway, meanwhile, is looking to start selling plant-based probiotic drinks in 2019.
Lifeway's bid to breath fresh life into its sales came alongside its financial results for the nine months to the end of September.
Net sales stood at US$80.3m, down from $92.6m a year earlier. Lifeway's income from operations came in at a loss of $115,000, compared to a profit of $2.7m in the first nine months of 2017.
The business posted a net loss of $274,000, versus a net profit of $1.4m.