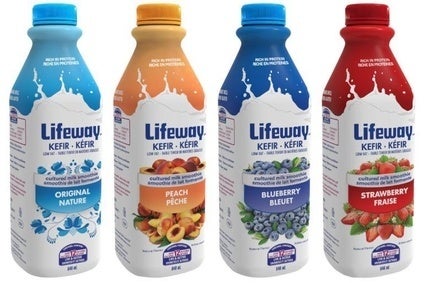 Lifeway Foods is expanding distribution of its probiotic dairy beverage to Mexico.
The kefir product is currently available in Canada, the UK, Central America and the Caribbean. Flavours to be offered in Mexico include Lifeway's plain, strawberry, blueberry and raspberry kefir. Consumers will have the options to choose between low fat organic and low fat conventional kefir in 8oz or 32oz bottles.
"We're thrilled to announce our expanded distribution to Mexico and are optimistic about new international opportunities," said Julie Smolyansky, Lifeway president and CEO . "Even more, we're excited to bring the incredible health benefits of our probiotic kefir to a new market. The global market for probiotics is expected to reach US$52.34 billion by 2020 and Lifeway is building the foundation to capitalise on the incredible worldwide opportunity to fill the needs of consumers."
Lifeway did not comment on which regions within Mexico or specific listings at time of press.