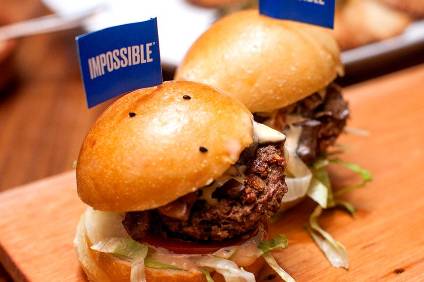 Lightlife, the meat-free brand owned by Maple Leaf Foods, the Canadian meat giant, has hit out at the "hyper-processed" ingredients used by Beyond Meat and Impossible Foods – provoking a fierce response from its US rivals.
Through a pre-prepared statement and adverts in The New York Times and The Wall Street Journal, Lightlife, acquired by Maple Leaf in 2017, claimed consumers "deserve plant-based protein that is developed in a kitchen, not a lab" and insisted it was "making a clean break from both of you 'food tech' companies that attempt to mimic meat at any cost".
The criticism comes as Lightlife looks to promote the new recipes for its range of products, with the brand seeking to emphasise the "clean" and "simple" nature of its foods, compared to fare on the market from the likes of Beyond Meat and Impossible Foods.
"We understand the factors that are driving the recent rise in plant-based protein sales," Lightlife president Dan Curtin said. "Because we care so much about leading the future of this important category and what it means to feeding people all over the world, we want consumers to understand the food they are putting into their bodies and how it's made."
In the newspaper adverts, Lightlife quipped: "We're going beyond and it isn't impossible. In fact, we're already on the way."
Beyond Meat brushed off Lightlife's comments. A spokesperson said: "If they were clear on our ingredients, they would see that our products are made with simple, plant-based ingredients. With no GMOs. No synthetic additives. Our products are designed to deliver the taste and texture of animal-based meat but are better for you and the planet."
Impossible Foods' use of soy leghemoglobin, or heme, to mimic the bleeding of red meat or to mimic crucial meat characteristics has been a subject of debate even though the ingredient was certified as "generally recognised as safe" (GRAS) by the US Food and Drug Administration (FDA) last year.
The company also attracted attention when it chose to source GM soy for the Impossible Burger. In the plant-based category, GM can be a sensitive issue for some.
In Impossible Foods' own "open letter" to Lightlife, the California-based business said the Maple Leaf-owned brand's claims were "a disingenuous, desperate disinformation campaign attempting to cast doubt on the integrity of our products".
Impossible Foods said: "The campaign leans on spurious arguments typically used by the meat industry: attack Impossible's products not based on their indisputable quality, nutrition, wholesomeness or deliciousness, but based on the number of ingredients – a logic-defying concept with zero relevance to health or product quality, intended to distract consumers from the obvious inferiority of Lightlife and Maple Leaf's products."