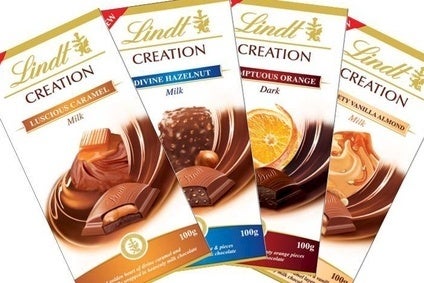 Swiss chocolate group Lindt & Sprüngli booked higher sales and earnings for 2014 but its share price reacted sluggishly in early trade today (10 March) on the cautious tone of the group's outlook.
The company booked a 13.1% increase in net income, which jumped to CHF342.6m (US$344.5m) in the year. EBIT growth was stronger still, rising 17.4% to CHF474.3m on constant operating margins of 14%.
Sales were lifted by the acquisition of US business Russell Stover, with net sales up 17.4% to CHF3.39bn. Lindt also grew its market share in the period, resulting in organic sales growth above the wider global chocolate sector at 9.8%.
"These good results were achieved despite largely subdued consumer sentiment, high commodity prices, and a challenging currency situation. The above-average growth of the Group once again clearly exceeds that of the chocolate markets and was driven by higher volumes and innovations, further progress in the seasonal sector, and strong development of the company's own global network of retail outlets. Substantial market share gains were made in all the core markets and in the emerging growth markets," the company said.
However, Lindt shares dipped slightly in early trade, falling 0.11% at 9.02 CET. The lukewarm investor response reflects concern over a cautious outlook for 2015, when Lindt confirmed its middle- to long-term target for organic sales growth of 6-8%.
"The strong Swiss franc and sustained high commodity prices continue to present great challenges. After successful completion of the integration of Russell Stover, Lindt & Sprüngli will adhere again to the medium to long-term profit target of a 20 to 40 basis points increase in the EBIT margin," the chocolate maker noted.
Kepler Cheuvreux analyst Jon Cox noted consensus margin expectations for 2015 – which currently stands at 14.4% – could be trimmed.
"Overall, it is a classy outfit with best-in-class organic sales growth dynamics. However, we are concerned about deteriorating key return ratios, its cash outlay on Russell Stover was CHF1.5bn (<4% ROCE) and 2015 is set to be a year of consolidation," Cox wrote in an investor note.