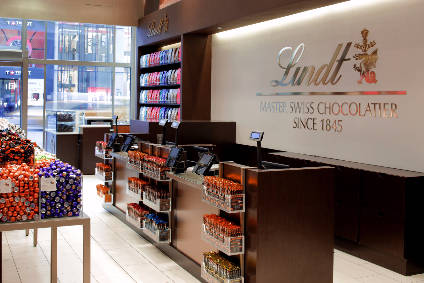 Lindt & Sprüngli has announced cost-saving measures in the US, including factory and store closures, as the Swiss chocolate manufacturer looks for faster growth in one of its most important markets.
The Ghirardelli owner has warned investors its "streamlining for growth initiatives" in the US will have a negative impact on its 2019 profits with a restructuring and impairment charge estimated at CHF60m (US$62.2m) net of tax.
However, it said that "more or less offsetting this charge are some positive developments on the tax side".
In comments made after Lindt released its 2019 sales report yesterday (14 January), the Zurich-listed company said: "We have decided to accelerate our plans to streamline for growth in the US."
Lindt said it wanted to "further leverage" its US brand Russell Stover, which it acquired in 2014.
To this end, the company is "simplifying our manufacturing network in the US by closing the smallest and oldest Russell Stover factory and moving from six to five factories".
Lindt said it will "generate significant fixed costs savings in the coming years from the site's closure and from further automation of processes in the remaining factories".
It also plans to make changes to its logistics operations.
"As already communicated, we moved in 2018 to a shared logistics network with five warehouses shared between Russell Stover, Ghirardelli and Lindt. We have now found new ways to optimise the temperature zones within different warehouses, and, as a result, we no longer need all of the old warehouse capacity any more and will impair all the unused warehouses," it said.
And Lindt is planning to downsize its store network.
It said: "Foot traffic has significantly declined in US outlet malls, especially outside of the main metropolitan areas. Some of the outlet malls in which our own stores are located are now struggling. As a result, we have now decided not to renew the expiring leases of about 30 US mall-based stores over the next two years."
Finally, Lindt said it is outsourcing its merchandising services to a third party.
"After an in-depth analysis, we have come to the conclusion that employing our own merchandising force is no longer cost efficient and our new specialist partner can give us the same or even better service at a lower cost," it said.
Lindt has not made any announcement about the number of likely job losses from the closures and restructuring plans which follow on from initiatives announced over the past couple of years.
Although the company's full-year 2019 results are not due to be released until 3 March, its 2019 sales report revealed sales in the US are up by 5.4% on a year-on-year basis. However, this is lower than in Europe (6.2%) and the Rest of the World (7.6%)