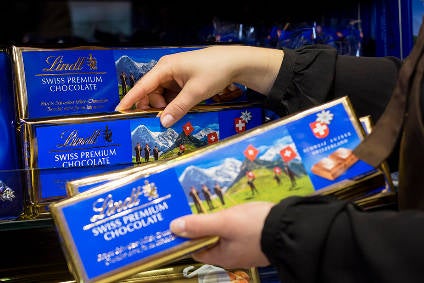 Swiss chocolate maker Lindt & Sprungli is preparing to expand in the US confectionery market with plans for new production lines.
Alongside the publication of Lindt's first-half results today (24 July), the company said to support its expansion plan in North America it would invest around CHF200m (US$201.3m) in the construction of new high-tech production lines for cocoa and chocolate mass within the next three to four years at its US plant in Stratham, New Hampshire.
Lindt described what it calls the NAFTA (North American Free Trade Agreement) region as a "challenging trading environment" but said it had experienced solid growth there with organic growth of 4% in the first half of the year and total sales of CHF564.1m.
"A highlight in this segment was the excellent results achieved by Lindt in Canada and Lindt USA," it said.
"After a challenging previous period in a stagnating market, Lindt achieved good growth during the reporting period, mainly thanks to more eye-catching point-of-sale displays for the leading brands Lindor and Excellence.
"Ghirardelli's sales also grew faster than the overall market [and] Russell Stover posted good sales with an innovative sugar-free chocolate range launched in the second half of 2017 containing Stevia, a natural plant extract.
"As number one in the premium segment and number three in the US chocolate market as a whole, Lindt & Sprüngli has an almost unbroken record of consistent sales and volume growth in recent years."
Lindt has faced challenges with Russell Stover, the US confectioner it acquired in 2014, and said during the first half it had "managed to stabilise its sales, with only a modest dip".
The company's overall first-half results revealed a 7.7% rise in sales to CHF1.67bn. Operating profit (EBIT) rose 11.5% to CHF117.1m. Lindt's net income increased 12.7% to CHF86m.
Earlier this month, fellow confectioner Pladis, which owns the Godiva chocolate brand, revealed expansion plans in North America.