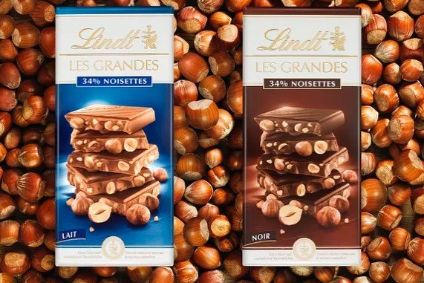 Lindt & Sprüngli has dismissed claims from Russia's federal advertising watchdog of "qualitative differences" between the chocolate the Swiss giant sells in the country to products marketed in western Europe.
Russia's Federal Antimonopoly Service (FAS), which oversees areas including competition, pricing and advertising, alleges Lindt chocolate on sale in the country is of a different quality to markets in Europe and has accused the Lindor maker of breaching consumer-protection regulations.
Lindt & Sprüngli, which markets chocolate in Russia under its Lindor, Excellence, Creation and Swiss Premium sub-brands, insisted there are no differences between products sold in Russia and in Europe. It said "one of the leading food industry research organisations in Russia" had found "no substantive differences".
In a statement, FAS claimed Lindt & Sprüngli's marketing had "focused on long-standing traditions of production, high reputation of the manufacturer and guaranteed product quality", which, the regulator said, "obviously gives the consumer the impression that he is being offered the same product that is produced and sold under the same brand in western Europe".
Andrey Kashevarov, deputy head of FAS, added: "Positioning of goods and services under the designations 'standard', 'tradition', 'quality' of a particular region have long been included in the practice of marketing promotion all over the world. However, when manufacturers offer Russian consumers, for various reasons, adapted goods and do not inform them about it, the department sees in such actions signs of violation of anti-monopoly legislation. Such behaviour … can lead to a redistribution of demand in the market and to them receiving unreasonable benefits, which, in turn, negatively affects competition."
A Lindt & Sprüngli spokesperson said it "regrets" the move by FAS to open proceedings and insisted the company is "open for further dialogue with the Russian authorities".
The company, the spokesperson asserted, is "confident that we will soon resolve all the possible concerns of FAS within the framework of the official anti-monopoly case, which will allow Lindt to fully use its procedural rights and provide additional clarifications".
However, Lindt is, the spokesperson added, "protecting our rights following local legislation via judicial proceedings in parallel to our open dialogue with authorities from FAS".
The spokesperson said: "A single batch of Lindt chocolate can be sold in Russia and in Switzerland, Germany, France, or in many other countries. The labelling may differ. The chocolate will be the same."