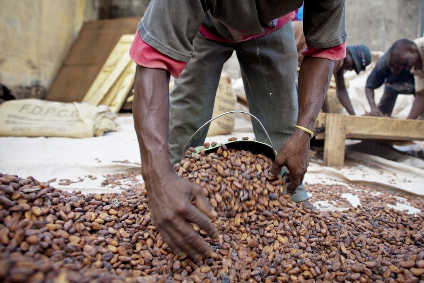 Lindt & Sprüngli has responded to criticism by campaign groups over the Swiss chocolate maker's commitments to deforestation with respect to cocoa sourcing ahead of its annual sustainability report.
SumOfUs, an international consumer group, and environmental non-governmental organisation Mighty Earth, had urged Lindt to publicly commit to an "ambitious anti-deforestation policy for sourcing cocoa beans".
Both organisations said in a statement that their "campaign efforts were bolstered with a petition signed by more than 70,000 people, arguing that Lindt sourced cocoa beans from traders buying illegal cocoa grown in protected areas, destroying rain forest habitats of endangered species like elephants and chimpanzees".
However, Lindt said the accusations were "rather biased" given the issue of deforestation is relevant to not only Lindt, but the whole global chocolate industry.
A spokesperson for Lindt told just-food in response to the campaign groups' report: "The issue of deforestation is a topic, which is related to agriculture in general, and as such, also to the cocoa cultivation. Therefore, it is not just an issue related to Lindt, but the industry as a whole. Our commitment to avoid deforestation in our agricultural supply chain for our chocolate products has been part of Lindt & Sprüngli's comprehensive sustainable sourcing strategy."
The Swiss company first started publishing its Lindt & Sprüngli Farming Program report in 2008 outlining its sustainability initiatives across the business, another spokesperson told just-food, adding that its 2018 report should be approved by the board of directors by year-end ready for publication early next year.
Lindt has gone further to publicly clarify any misconceptions over its commitments by posting a new document on its website.
It reads: "Lindt & Sprüngli is aware of the issues related to deforestation in the agricultural supply chains used for the production of our chocolate products. As a member of the Cocoa & Forests Initiative we are committed to working together with other industry partners to end deforestation for cocoa production."
The aforementioned Lindt spokesperson added with regard to the company's 'Action Plans': "[Our] 'No-Deforestation & Agroforestry Action Plans' are implemented as an integral part of our Lindt & Sprüngli Farming Program, and go even beyond our engagement as member of the Cocoa & Forest Initiative."
And the website document said Lindt is working toward fully implementing its Action Plans by 2025 to "assure" its cocoa supply chain is free from deforestation.
Taking into account the differing geographical contexts, Lindt's website article listed the key parameters of its cocoa sustainability activities as: "No cocoa bean sourcing from protected areas; no expansion of land under cocoa cultivation into areas defined by the 'High Carbon Stock Approach'; Agroforestry systems for cocoa production; [and] supporting community forest protection, conservation and reforestation."
Meanwhile, Christian Bock, a campaigner at SumOfUs, said in the groups' statement: "We have have been in a close and constructive dialogue with Lindt for the last few months and we commend the company for committing to anti-deforestation efforts and a forest-friendly 'agroforestry' model. While there is much work to be done between now and 2025, Lindt's public commitment is a major step in the right direction."