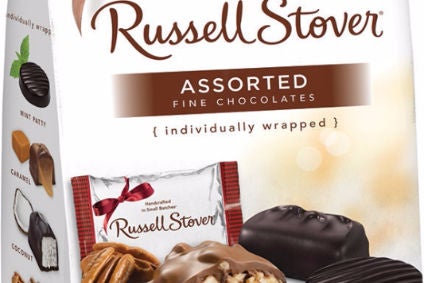 Shares in Lindt & Sprungli slid this morning (25 July) despite higher first-half profits from the Switzerland-based chocolate maker, after the Lindor owner's sales missed analyst estimates and the company cut its forecast for annual revenue.
Lindt reported half-year sales of CHF1.55bn (US$1.64bn), up 3.1% on the first six months of 2016 but below the CHF1.6bn predicted by analysts. On an organic basis, Lindt's sales rose 3.6%, again below the 6.7% forecast by analysts.
The company admitted the "strategic realignment" of its US unit Russell Stover was taking longer than it had originally expected. Lindt said it had discontinued "non-profitable products" and had new items lined up to be launched in the second half of 2017. It plans to relaunch the sugar-free Russell Stover line. Lindt added changes in consumer habits – including increased interest in healthier snacks and in shopping online – was affecting its business in the US. Overall, sales from Lindt's NAFTA division fell 3% on an organic basis.
In Europe, Lindt's first-half sales increased 6% on an organic basis, helped by growth in Germany and the UK.
Lindt said it expects its sales growth to "accelerate" in the second half of the year. However, the company now anticipates its annual sales growth will be "slightly lower" than the 6% it saw in 2016 "due to current developments in North America". It added it was "confident" its annual growth would "considerably exceed the industry average". In March, when Lindt reported its results for 2016, the company forecast its 2017 sales growth would be "broadly in line" with the year before.
Lindt has, however, maintained its forecast for an increase in operating margin this year. In the first half of 2017, Lindt generated an EBIT margin of 14.4%, up from 14.2% in the opening six months of 2016.
The company posted an 8.4% increase in EBIT to CHF562.5m. Its net income was up 10.2% at CHF419.8m.
Kepler Cheuvreux analyst Jon Cox said: "Lindt's cash flow was strong amid solid work on receivables and lower capex. It cut its full-year outlook, expecting sales just below last year's 6% – and below its 6-8% goal. Lindt is a growth stock – and priced as such. We would expect the stock to come under pressure".
Shares in Lindt were down 5% at CHF62 at 09:11 CET.