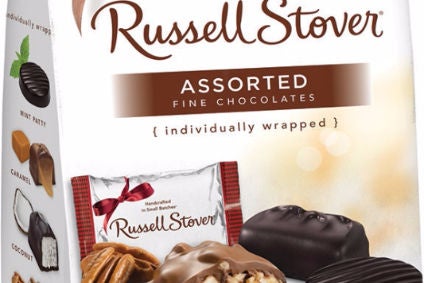 Chocolate maker Lindt & Sprüngli has warned organic sales for the year will be 5-7% lower than in 2019, based on the assumption there will no second coronavirus wave and Christmas trading will be on a par with last year.
The Swiss-based business reported first-half results this morning (21 July), with organic sales down 8.1% at CHF1.53bn (US$1.63bn), and, due to a "strong" Swiss franc, were down 12.7% on a reported currency basis. The full-year operating profit margin should be around 10%, the company said.
In 2019, Lindt & Sprüngli, the owner of the Russell Stover chocolate brand amongst others, reported organic sales of CHF4.5bn, representing growth of 6.1%.
"The current uncertainty obviously makes the outlook for the current year much less predictable than in the past," Lindt & Sprüngli noted in the earnings release. "The most important projections in the full-year guidance assume that there will be no second significant wave of infection with extensive lockdowns, and that seasonal business at Christmas will be on previous year's level."
For the first-half, operating profit, EBIT, plunged to CHF17.1m from CHF126.2m a year earlier, while net income was also down considerably at CHF19.7m, compared to CHF88.1m.
"To minimise the effects on the annual results as much as possible, the company has initiated cost-cutting and efficiency programmes across the entire group with the intention of emerging from the crisis stronger than ever," the statement read. "At the same time, investments in advertising continue to ensure profitable growth in future."
Zurich-listed Lindt & Sprüngli is sticking with its mid- to long-term organic sales growth target of 5-7% per year but is confident it can beat that in 2021 due to the "expected catch-up effect".
"Lindt & Sprüngli expects operating profit to return to the level of around 15% in 2022/23, which should also allow the operating margin to improve again by 20-40 basis points per annum in the medium to long term."