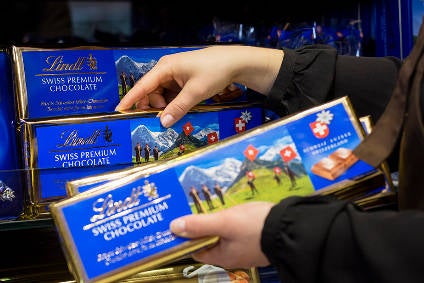 Lindt & Sprüngli, the Swiss chocolate group, has raised its forecast for annual sales growth on the back of a 17% jump in underlying sales in the first six months of the year.
The Lindor maker today (27 July) reported a 17.4% increase in its first-half organic sales. Equity analysts covering the business had predicted an 8.9% rise. On a reported basis, Lindt's sales were up 17.2% at CHF17.8bn (US$19.42bn).
The company said the overall chocolate market had grown after the "weak" year seen in 2020 against the backdrop of Covid-19. Lindt also noted it had "benefited from an above-average development of the premium segment". The sales Lindt makes online doubled in the first half of 2020.
Elsewhere in the business, the pandemic continues to weigh on Lindt's retail stores and on its sales through duty free.
In the first half of 2020, amid strict Covid-19 lockdowns, Lindt's group sales fell 8.1% to CHF1.54bn. However, although the first half of this year saw Lindt lap that bitter opening six months of 2020, its sales were up on the first half of 2019, when they stood at CHF1.76bn.
Lindt booked first-half operating income of CHF139m, up sharply on the CHF17m posted in the corresponding period of 2020 – and higher than the CHF126m reported in the opening six months of 2019.
Group net income stood at CHF101.6m, compared to CHF19.7m a year earlier. In the first half of 2019, Lindt's net income was CHF88.1m.
Lindt now expects its organic sales growth to be at a low double-digit rate over 2021 as a whole. The company had forecast growth of 6-8%.
"There are beats, big beats and premium beats. This is the latter. The company has not raised its longer-term guidance for growth and profitability. We kick ourselves for having downgraded this stock so shortly before results," AllianceBernstein analyst Bruno Monteyne said.