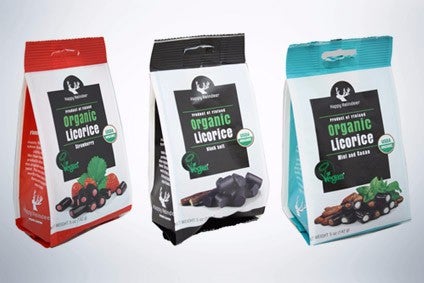 Finland's Makua Foods has said its Happy Reindeer liquorice brand will enter more overseas markets in 2017.
Happy Reindeer products are already on sale in the UK but Makua Foods, which sells the confectionery through its candy-making arm Makulaku, is eyeing more markets this year.
"Happy Reindeer … will be in the USA and Canada during the spring and in many countries in southern and northern Europe during 2017," Jorma Alanen, executive vice president for Makua Foods, said today (8 January). "Makulaku is also exhibiting in March at Foodex in Tokyo to open new markets in Asia."
Makulaku exports around 50% of its production. Its largest export market is Sweden but the company is looking for "strong growth" from its export markets, Alanen said.
To try to support its growth ambitions, Makua Foods has invested in a new liquorice production line at its Makalaku factory. The new line has doubled the plant's capacity and also given the company the ability to make new types of products, Alanen said.
"Makulaku's production capacity increases significantly with this new line," Alanen insisted. "On top of that, we have a possibility to produce new types of products since the cooking and extrusion process can be controlled much more strictly with the latest technology. After the investment, Makulaku has the possibility of producing many different types of individually wrapped and multi-packed bars."
The company, meanwhile, has made changes to the recipe of its Happy Reindeer liquorice to ensure the confectionery is now organic and vegan. The new recipe was launched at the ISM confectionery industry trade show in Cologne last month.
"There is great demand in the market for organic liquorice suitable for vegans, and as far as we know Makulaku is the only company in the world to make this type of filled liquorice," Makua Foods Risto Jämsén said.