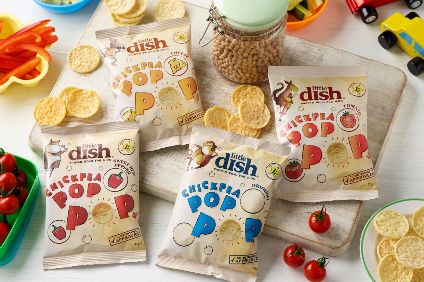 UK children's ready meals maker Little Dish is launching a "popped savoury snack" for toddlers that aims to offer parents "a wider choice of healthy savoury snacks" for young children.
Little Dish said the new Chickpea Pop Pops are made with 40% chickpeas and are "significantly lower in salt than an average bag of crisps" – while the "air popped cooking method ensures they're low in saturated fat, contain no artificial colours, flavours or preservatives and are gluten-free".
Little Dish said the latest addition to its snacks line had been "approved by nutritionist and mum" Lucy Jones, who said each 17g bag of the product "provides a source of protein and is high in fibre and nutrients which help foods release their energy more slowly". 
The new product will be available in four variants – Original, Cheese, Sweet Red Pepper and Tomato – from the end of this month in the baby aisles at Sainsbury's and Tesco priced at GBP0.75 (US$0.92). Little Dish said the product will be available at other major retailers later.