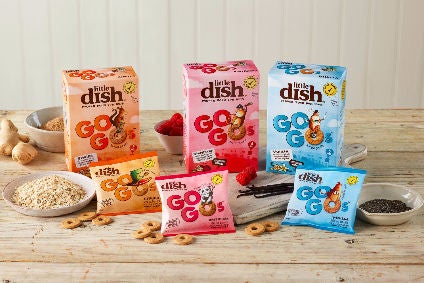 UK children's ready meals maker Little Dish has launched a "nutritious" toddler snack called Little Dish Go Gos.
The new range features mini wholegrain oat biscuits made with fibre-rich flax, chia seeds and pea protein.
Each 25g bag of Go Gos provides 3g of protein has one teaspoon of sugar per bag. The biscuits contain no artificial colours, no refined sugar, flavours or preservatives and are made to a wheat and dairy-free recipe.
Dietitian Lucy Jones said: "Go Gos have been specially designed to help support young children's energy levels. Many of the ingredients such as wholegrain oats and flax and chia seeds are known to release their energy slowly. These wholesome natural ingredients have been used in place of traditional biscuit ingredients to help provide a steady release of energy, rather than a boost followed by a crash. This is what we call good energy."
The firm said the launch marks its first steps into the baby aisle. A spokesperson told just-food the range targeted one-to-three year olds. It sees the firm's entry into snack foods and the baby aisle. Traditionally, Little Dish produced chilled meals for children up to the age of six.
"Little Dish has been making healthy meals that children love for nearly ten years, so moving into the baby aisle with a range of healthy ambient snacks is a natural progression. Go Gos is a really important launch for us as it allows Little Dish to offer busy families nutritious options for their little ones when they're out and about, not just at mealtimes," said Charlotte Tisdall, Little Dish marketing director.
Go Gos will be available in three variants: raspberry, vanilla and ginger. They will be individually priced at GBP0.60 or a multipack of five at GBP2.50 and sold exclusively in Tesco from 18 January.