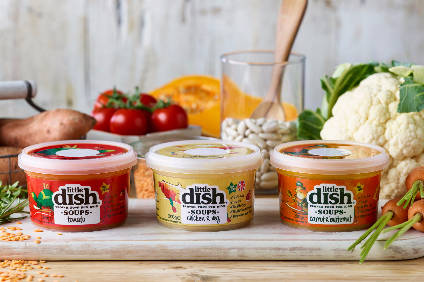 UK children's ready meals maker Little Dish has added three varieties of "nutritionally balanced fresh soups" to its range aimed at one to three-year-olds.
The line of three soups – tomato, chicken and veg, plus carrot and butternut – "are made from 100% natural ingredients, each providing two of a child's recommended five-a-day, are low in salt and contain no added sugar, additives or preservatives", Little Dish said.
The new soups, in 200g pots featuring the brand's Zoo Crew characters, follows the launch last month of the company's "pots and pies toddler meals".
Little Dish marketing director Charlotte Tisdall said: "Soup is a great healthy snack or meal, and we heard from mums and dads that little ones are often having soup at nursery. All too often, shop-bought soups contain high levels of salt and sugar, so we have developed a range of soups that are low in salt, have no added sugar, and are nutritionally balanced for young children."
"This launch is the next step on our mission to make a positive impact on kids' health with a range of healthy meals, snacks and accompaniments that contain no hidden nasties and give parents a choice of convenient, proper food for their little ones," Tisdall said.
The soups, which can be heated in the microwave or on the hob, will be available at Sainsbury's from 5 October, with other major retailers to follow.
Earlier this year, Little Dish announced the launch of its Little Dish Go Gos toddlers' snack range featuring mini whole grain oat biscuits made with fibre-rich flax, chia seeds and pea protein.