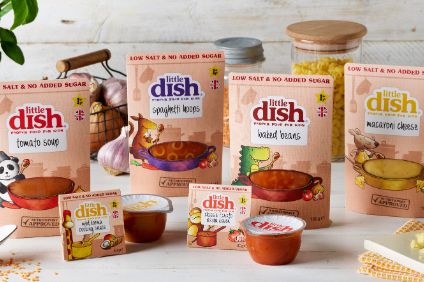 UK-based baby and toddler food supplier Little Dish is to roll out a new range of ambient products in its domestic market.
Little Dish has developed baked beans, spaghetti hoops, macaroni cheese and tomato soup that contain no added sugar or sweeteners. The company said the products are low in salt.
The new lines also contain hidden vegetables such as carrots, butternut squash and cauliflower.

Two new cooking sauces – Classic Tomato and Mild Korma, have also been unveiled.

The new range has been created so that parents can let their youngest children enjoy popular meals without worrying about any hidden additives.
"Products marketed as 'no added sugar' can contain sweeteners which have no nutritional value and are thought to contribute to young children developing a taste for higher levels of sweetness rather than the natural flavours of food," dietitian Lucy Jones, who Little Dish said had "approved" the new range, said.

Dean Brown, Little Dish's managing director, added: "I'm really passionate about this range. We believe family favourites, like baked beans and spaghetti hoops, shouldn't contain added sugar or sweeteners so we've worked hard to put that right. It's also an exciting move for Little Dish as it further builds our presence in the baby aisle and takes our healthy food for kids into the kitchen cupboard."
The Little Dish range of "classics" have an RRP of GBP1.25. The sauces have a recommended retail price of GBP1.00. Little Dish has secured listings at retailers including Tesco, Sainsbury's and Morrisons.