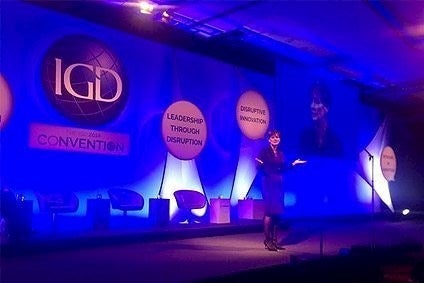 16:55 So that's it. A day full of insight into how the grocery industry can try to navigate what are the most challenging trading conditions for a generation – and an idea of what opportunities (and threats lay on the horizon).
It was fascinating to hear Richard Pennycook, the chief executive of The Co-operative Group , describe how the UK grocer has sought to recover from its travails.
Premier Foods chief executive Gavin Darby saw an opportunity in the rise of discount retailers in the UK.
The highlight was Andrew Higginson's blunt assessment of what has gone wrong for the sector, which you can read here.
Great day of 'disruptive' thought leadership from great & good of UK grocery @ #igdconvention 2014.

— Simon Mowbray (@SimonMowbray) October 7, 2014
The audience is then asked 'How effective will a multichannel strategy prove to be for food retailers?' 93% believe retailers that pull this off will benefit.
Buerk asks Clarke for his response. "I'll go with the audience. Some of those pure-play retailers have other challenges to fulfil. There'll always be a place for single-channel retailers but that's not mass market."
Philips , who has presided over Morrisons ' (some would say late) move into online, says: "I agree with Andy. You've got to go where customers want to go. It gives us a huge advantage being multi-format."
16:25 A panel session starts with Morrisons' Philips and Asda's Clarke. As with previous panels, audience polls are used as basis for the Q&A. The audience is asked what future holds for supermarkets and hypermarkets. Sixty-one per cent say 'declining share but eventually stabilising'. In response, Clarke, who presides over a retailer with a vast estate of larger stores, says: "Those that win will be those who make more effective use of the space they've got."
Morrisons saw its sales suffer as UK shoppers flocked to the likes of Aldi and LIDL . However, the UK's fourth-largest grocer has, in the last six months, acted.
"If you live in a world of disruption, you have to confront the brutal reality," Philips continues. And he says Morrisons have sought to do just that by "neutralising" the competition on price, pointing to the retailer's new Match & More price comparison scheme that is targeting Aldi and Lidl. "Price is out of the equation, which means we can do the fun stuff and differentiate. That's what customers want."
One of the big debates in the industry, Philips says, is on the discounters: is it cyclical or is it structural? The Morrisons boss reflects back on the rise and fall of Kwik Save in the UK. However, he says: "This time, we've got structural changes going on in the market."
16:10 The final half an hour or so but Dalton Philips, the chief executive of Morrisons, will be worth listening to after the last couple of years he has had.
Kennedy notes some sessions today have discussed pruning SKUs but he says innovation helps attract consumers to spirits, as the category has a relatively lower penetration among UK households. "Innovation is a key way to disrupt price and value in a very competitive category."
#igdconvention John Kennedy @Diageo_News "8/10 of consumers can be influenced at point of purchase"

— Nick Downing (@NickDowning_IGD) October 7, 2014
15:50 John Kennedy, the head of European operations at drinks giant Diageo , takes to the stage after a swift afternoon coffee break.
However, he now turns his focus on suppliers. "How many poor tertiary brands on the supermarket shelves are out there?" he asks. "They really shouldn't have made the cut."
Higginson's straight-talking is going down well with the audience:
Love your straight talking common sense Andrew Higginson – chip off the old Ken Morrison block! @IGD_Events #IGDconvention

— Jo Macsween (@JoMacsween) October 7, 2014
Thank you Andrew Higginson, best speech of the day at #IGDconvention, no slides, just formed opinions on retailing today. Brilliant.

— Paul Winsor (@PaulWinsor1969) October 7, 2014
"@julieaplant: #igdconvention good sense from Andrew Higginson" Really refreshing, straight talking

— Squeeze Juice Cafe (@SqueezeJuice) October 7, 2014
Higginson only joined Morrisons last week, so his spot here is from a personal perspective and it's worth listening to, given his experience in the sector. Supermarkets, he insists, aren't dead. "It strikes me looking in that Aldi and Lidl haven't got any cheaper; it's that supermarkets have got more expensive." Consumers have lost trust with supermarkets prices and have become more interested in the hard discounters. And he says the Big Four, in their marketing, have been focused on each other. "They haven't been talking to the customer."
15:00 Ex-Tesco finance director, former Poundland chair and soon-to-be Morrisons chairman Andrew Higginson follows his fellow Andy. He starts with another joke about Michael Buerk's beard. "I was an executive when Michael Buerk was clean-shaven." And one about Tesco, which he left in 2012. "I can say – in all honesty – it was alright when I left."
In conclusion, Clarke says: "This is an industry going through rapid change. Having a clear strategy is critical. However, strategy is only ever 10% – 90% is execution. The long-term success of our industry will only come from our willingness to adapt."
Transparency builds trust, Clarke says. Consumers, he argues, do not want gimmicks – and points to Asda's EDLP strategy.
Clarke talks about the need to give savvy consumers a "reason to visit". Retailers in the UK, he says, are looking at developing "super-destinations" to tempt shoppers away from their local store. However, with UK consumers increasingly shopping at c-stores, that is a tough ask.
14:40 The final sessions begins. Retail in disruption. One of UK grocery's big beasts, Asda CEO Andy Clarke, hits the stage.
And a final poll in the panel session on whether the audience sees technology as an opportunity and a threat:
Disruptive technologies: opportunity or threat? #igdconvention pic.twitter.com/PuUf11yl7P

— IGD Retail Analysis (@RetailAnalysis) October 7, 2014
Another poll: 'Where will 3D printing make its biggest mark?' Thirty-one per cent say restaurants – but 30% say 'It won't have much impact at all.' Kucsma is sanguine, arguing her company is targeting professional kitchens first. Only 6% of the audience here believed the technology will make its biggest impact in the home. Interesting findings – but it is often the case food trends are first seen in the restaurant sector and price will be a key factor in consumers buying into the technology, which is obviously currently expensive.
14:20 A panel convenes Google 's Fitzgerald, Kucsma from 3D food printing company Natural Machines and Intel 's Cook to discuss the technology sessions. It kicks off with a poll on what delegates think will be the most popular wearable computing. Watches come out on top with 41%. Only 7% plump for glasses. A pertinent point for retailers is raised by Fitzgerald, who claims the rise of wearables will make payments "so much easier".
Next up is Elaine Cook from Intel, who is continuing the presentations focusing on disruptive technology. Cook is focusing on store shelves and how technology can improve performance. One innovation Cook cites is the use of video on shelves, which can be used to update prices "at the flick of a switch".
14:00 has come round very quickly and we are back with the afternoon session at the IGD Convention.
And it's lunch. Hoping there may be some 3D-printed food available to try.
Kucsma shows a video vox pop with people eating 3D printed food. Some enjoy the taste, others call the technology "too radical", with an older lady walking away from shot. Here is reaction from some delegates here:
#3dfoodprinting not a fad but a kitchen tool to do intricate things that u can't do by hand. #igdconvention @Mindtree_Ltd @NaturalMachines

— Anshuman (@anshumansingh) October 7, 2014
Interesting look at 3D food printing from Evangelists @NaturalMachines. Michelin kitchens – yes. The home – not so sure yet. #igdconvention

— glynn davis (@GlynnDavis) October 7, 2014
#igdconvention I would love a 3d food printer. How much are they?

— julie plant (@julieaplant) October 7, 2014
Kucsma's confidence in the technology is clear. "You may have thought of 3D food as fake food. This is real food, just 3D printing. You will be as unsurprised to see a 3D printer in a kitchen as you would an oven."
Turning to kitchen users at home. Kucsma says 3D printers can help consumers eat more healthily. "You can print fresh food, real, wholesome, healthy ingredients," she says. "We have become over-reliant on processed, packaged foods but it's come at a price. Chances are we are eating too much oil, salt and sugar. Our proposition is to get people back into the kitchens with 3D food printing. It's not to say everything you eat is through 3D food printing. But think about foods that need shaping or layering. That's where 3D food printing can shine." It is easy to imagine the processed, packaged food manufacturers in the audience here shifting in their seats.
Looking first at the foodservice sector, Kucsma says chefs aren't threatened by 3D food printing. It helps diversity in recipes or in presentation, she argues. As she speaks a printer is printing out mashed potato on stage.
Kucsma polls the audience. 'Will 3D food printing disrupt my industry?' delegates are asked. The majority sit on the fence. Fifty-three per cent say 'can't say yet', although a quarter say it will have an impact on the sector. "This is not a fad," Kucsma insists.
12:30 The session on disruptive technology continues, with a presentation on 3D printing. Lynette Kucsma, co-founder of Natural Machines, a maker of 3D food printers.
"It's early days but it's a very exciting space," Fitzgerald concludes. It's easy to be sceptical about Google Glass – and concerned about considerations like privacy – but it will be an area the industry needs to watch.
What are the implications for shoppers? Consumers can see the bar code, take a picture and have it. "It closes the gap between 'I want it' and 'I have it'," Fitzgerald says. He also believes eyeware like Google Glass can improve customer service, helping store staff check stock levels in real-time.
Privilege to hear directly from @peterfitzgerald on role of Google wearable tech for Consumers & Retailers alike @ #IGDconvention

— Mark Dean (@MarkRDean) October 7, 2014
By 2018, Google thinks 250m wearables will be sold worldwide, be it wristbands, smart watches or eyeware. Health, Fitzgerald says, is already one of the factors driving purchases of products like wristbands.
12:10 The might of Google wades into the room. Peter Fitzgerald, Google UK's sales director, takes to the stage to talk about Google Glass – and is wearing the device. He says devices like Google Glass will help "technology get out of the way". He then proceeds to show an app that measures his physical activity (including how long he sleeps) and which produces bar charts to show data on all sorts of metrics. Whether reading and analysing the data eats into sleep time is not discussed.
Winter's comments on culture are interesting. "You can't punish failure. Change has to be seen as an opportunity in a business, rather than a threat." That echoed comments from Innis & Gunn's Dougal Sharp at the breakfast briefing on the importance of companies being prepared to fail. Sharp says a business must have a "culture of acceptance" rather than "blame and witch-hunting" to encourage innovation.
Winter says UB looks at the issue using four themes: technology is not the answer; disruptive innovation is more than NPD; execution is key; and a business has to have a culture of innovation.
11:40 In a slow-to-no-growth sector, innovation can help drive sales but it comes with risk. Next up is Mark Winter, sales director at United Biscuits . He starts with a question for the audience. 'What is our collective rate of launching breakthrough innovation in the last three years?' Sixty-two per cent say the rate is one in 2,000 launches. And they are right. Winter puts some numbers on the trend. He cites data from Nielsen that says 12,000 products launched in western Europe between 2011 and 2013 – and only seven were considered "breakthrough" innovation, which has surprised some in the audience:
12,000 consumer products launched between 2011-2013, only 7 product achieved a breakthrough!!! #igdconvention

— Paul Winsor (@PaulWinsor1969) October 7, 2014
McNamara outlines what he believes are three "emerging technologies" that will grow in influence in the grocery industry – wearables, robotics and cognitive technology. On wearables, he says he can see technology like wearable watches can be used to help store staff. He also claims robots will be available to spot gaps on shelf and re-stock them immediately to give human workers the chance to do more "value-added" tasks.
"These technologies already exist albeit some may be in embryonic form. Ultimately, they'll come to be seen as part of the offer customers expect of us," he says. "If it sounds far-fetched, just think back to the last ten years. I didn't anticipate the impact of mobile to be quite so dramatic."
Mike McNamara, chief information officer at Tesco, takes to the stage. And starts with a quip. "I'm delighted to be here this morning. Quite frankly I am delighted not to be in the office this morning."
11:20 Delegates are just filing back into the main hall after a coffee break and some (rather nice) biscuits from Burton Biscuit Co.
Kers believes bigger businesses can be agile. "When you want to be big and fast, you need to be structured and disciplined on the inside. You can act with speed," he says. By being disciplined in your thinking, you can spot trends much quicker. We are very disciplined in the way we analyse the market. It helps us to be a lot more adaptable."
How larger companies can adapt quickly to the "disruption" around them is a key theme of today's event. Buerk asks Premier's Darby what an agile company looks like. Darby emphasises the importance of employing the right type of people. "I don't really believe in this distinction between corporate people in big companies and entrepreneurs. Entreprenurial skills is a big focus for me. It's an attitude of mind in terms of idea, speed, decisiveness."
Kers insists Muller 's ambition is to be "the biggest and the best" dairy company in the UK.
Buerk says one of the themes of the convention that bigger is not always better. He asks Boparan what the advantages are of having scale. The 2 Sisters boss says there are benefits but insists: "You can't just carry on getting bigger. You have to step back and be a better business. Sometimes you have to say no to opportunities."
It's clear all three businesses have gone through significant change in recent years. 2 Sisters, Boparan points out, has grown from a business of GBP600m to GBP3bn, a business of one category to 20 categories. Muller, Kers says, has, through acquisitions and a greenfield site, became a leading player in the UK dairy market. Premier CEO Darby says the UK food group, which has had a turbulent few years, was "the classic zombie company" but was now on a firmer footing on "the second chapter" of a turnaround programme. "We're refinanced the business, now we need to grow it," he tells Buerk.
10:30 A change in format now, with three leading manufacturers on a panel. Ronald Kers, the CEO of Muller's business in the UK and Ireland, Premier Foods chief executive Gavin Darby and 2 Sisters Food Group CEO Ranjit Singh Boparan take to the stage.
And a second poll for the audience. Delegates are asked: 'How advanced is your approach to multichannel retailing?' Sixteen per cent admit they are 'just getting our heads around it' and a whopping 63% say their strategies are 'underway but lots more to do'.
Another poll. Which is causing the audience's the biggest headache? The slow pace of consumer spending wins, with 39% of audience plumping for that option out of eight.
The Co-op boss sits down with Buerk for a few questions to reflect on the retailer's crisis. "What was the worst moment?" Buerk asks. Without hesitation, Pennycook points to the Rev. Flowers drugs affair. Pennycook also reveals he had drawn up a crisis document to fix its bank – and had called it 'Operation Charlie'. His children had to point out the potential obvious embarrassment in the name.
Notably, Pennycook describes the Somerfield deal is less than glowing terms. He says "ill-advised mergers and acquisitions", including Somerfield, had hit the Co-op's balance sheet. To help revitalise the retailer's finances, Pennycook said it had to sell some "well-performing businesses" including its pharmacy arm.
Fascinating insight from the Co-op CEO on the recent crisis at the UK grocer. Up-front, honest – with some black humour over the Rev. Flowers drugs scandal.
Richard Pennycook @TheCooperative on leadership during disruption #igdconvention pic.twitter.com/rWhvSAt6Vn

— Nick Downing (@NickDowning_IGD) October 7, 2014
Pennycook says he will deliver some "lessons of crisis leadership, which I hope will be helpful". Before he embarks on that, he underlines that the situation at the Co-op is now "stable".
10:00 The pace doesn't ease up. Up now is Richard Pennycook, the former Morrisons CFO but now CEO of fellow UK grocer The Co-operative Group, which has had a tumultuous year. Pennycook starts with a nod to the previous speaker. "We're at the beginning of a turnaround journey. Charles has emphatically delivered a turnaround and I am a huge admirer of Charles and his team."
Wilson has a brighter note for manufacturers. "Suppliers should have fun and go where the growth is," he says breezily, listing a range of channels – catering, convenience, discount, online.
"The economic model of the supermarket is being disrupted," Wilson says, armed with some stark numbers. Supermarkets have spent GBP12bn on capex in the last three years – but seen their market share erode and, the Booker boss notes, seen operating profits fall GBP1.4bn.
Wilson cites another "disruption" – suppliers connecting more directly with consumers, citing the example of Nestle 's Nespresso coffee brand.
09:40 Charles Wilson, the chief executive of UK wholesale retailer Booker, takes to the stage. Like the speakers before, he outlines the changes seen on the UK grocery landscape – more consumers shopping at convenience and discounters, for example.
Listening to Joanne DF it strikes me we all need to listen more, talk less and get the simple things right for our customers #igdconvention

— Jo Macsween (@JoMacsween) October 7, 2014
Denney-Finch puts numbers on the forecasts. "We expect to see convenience, discount and online retailing grow together by more than GBP31bn over the next five years and claim 43% of the market."
Denney-Finch looks into her crystal ball. The discounters will open many more outlets, she says, and may even experiment with formats. She points to Lidl in France. Consumers will buy more directly from producers, the IGD chief forecasts.
Interesting stat on promos from IGD. Only 18% now say they brows most promotions in-store, compared to 25% two years ago. Promotions have become less of an influence on store choice and product, Denney-Finch says. She calls it "a shopper backlash to complexity".
54% of shoppers visit Discounters, 80% think quality has improved says our CEO Joanne #IGDconvention

— Nick Downing (@NickDowning_IGD) October 7, 2014
09:20 Joanne Denney-Finch, chief executive of the IGD, now gives her annual address. She askes questions of the audience: "How often is the shopper in your boardroom? How often does the word 'shopper' feature in your minutes? How many of the KPIs of across your organisation are about shopper satisfaction? Or has your time been monopolised by talk of margins, costs and sales?"
"These are disruptive times," Dawson says, coining the theme of the conference. "We have a jam-packed agenda today. It's time to be inspired, it's time to be provoked."
09:10 Fiona Dawson, president of Mars' UK chocolate business, is the first presenter. She admits she had pressed option one on the poll. "In my 26 years in the business, it has been one of the toughest," she says.
Buerk polls the audience on how the year has fared compared to their expectations. Fifty-nine per cent say "a lot tougher" or "a bit tougher".
Michael Buerk with a beard? Most disruptive influence on the #igdconvention in last 5 years??

— David Blastland (@DJBlasty) October 7, 2014
09:00 The full convention begins. Usual host Michael Buerk, the veteran BBC broadcaster, takes to the stage, telling us it is the 15th time he has presided over proceedings here. He apologises for his beard, quipping he is raising money for charity. Or, in other words, he says, Tesco.
The panel is asked to give the audience some tips about how to get in front of buyers. Suppliers need to have a "compelling reason" to be stocked, Macsween says. Fine, provide data on your past performance but also go armed with forward-looking data. "You have to be genuinely innovative as well," she explains. "Buyers are not really looking for you to come in and steal customers from a brand next to you. It's about growing basket size."
The IGD host asks the panel how manufacturers can move quickly in today's environment. Macsween suggests her company's smaller size means it is able to "take more risks" than some of their larger peers – and that has attracted staff to the business.
"A lot of people are employees from blue-chip companies – often for less money – who are fed up with 'head office' as they call it," she says.
The panel features Jo Macsween of Haggis supplier Macsween and Dougal Sharp, CEO of UK craft brewer Innis & Gunn.
08:00 The event kicks off with a breakfast briefing and a panel including UK SMEs IGD believes can teach the larger, blue-chip manufacturers in the audience about how to grow in these challenging trading conditions.
Good morning from a busy – and an ever-busier – Park Plaza Westminster Bridge hotel, just across the Thames from Parliament, where this year's IGD Convention is taking place.
The annual conference features some of the leading lights in the sector and this year is no exception. Manufacturing heavyweights including Mars, United Biscuits and Premier Foods feature, while later in the day, Asda CEO Andy Clarke and Morrisons chief executive Dalton Philips will also take to the stage.
The theme of this year's event is "disruption" – how food and grocery companies can trade through what the IGD says are trading conditions that have become "even tougher" despite signs of economic revival in the UK.
just-food will post live updates here throughout the day, with the latest news and views from the event.
Some delegates have already tweeted their anticipation:
Off to #igdconvention @IGD_Events in London today for some thought provoking sessions on retail! #InStore

— Russ Scanlon (@RussScanlon) October 7, 2014
In Westminster for #igdconvention Looking forward to some equally inspiring retail insight. @CouponsEurope pic.twitter.com/3navNlgmu0
— Stuart Sankey (@stusank) October 7, 2014
Looking forward to some thought provoking presentations and chatting to old friends at the #IGDconvention today. Will tweet any revelations.

— Paul Lees (@leespaul) October 7, 2014