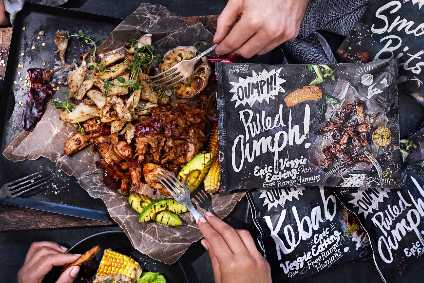 The Livekindly Collective, the US-based meat-free business, wants to take its Oumph brand into five new markets in 2021.
Henrik Åkerman, global brand director at Oumph, said "between three and five new markets is the ambition" in 2021 to add to existing territories including the Nordic countries and the UK.
Livekindly acquired Oumph from Sweden-based Food for Progress in June, adding the brand to a roster of products that includes Fry's and LikeMeat. Known until earlier this year as Foods United, Delaware-based Livekindly, which has former Unilever executive Kees Kruythoff as chairman and CEO, has acquired those brands this year.
Last month, Livekindly, which has had Zurich-based Blue Horizon Ventures as a principal shareholder since its formation, announced it had secured a fresh tranche of funding.
Next year, the company has set its sights on launching Oumph in markets including Germany, South Africa and Australia. "We're in a number of interesting dialogues. Unfortunately we're not able to share details with you yet," Åkerman told just-food.
"We are hoping for these launches to happen in Q1 and Q2. We will start with the current core range of Pulled Oumph, Oumph The Chunk, The Oumph Burger and Oumph Kebab Spice. We'll also be launching the formable Oumph Mince and the Oumph Smoky Bits into new markets."
This year, Oumph's retail sales are set to be "close to GBP7m (US$9.4m)", equating to growth of more than 30%, Åkerman said. Retail sales in the UK will be "very close" to double 2020's level, he added.
"We have seen different patterns across markets. In the UK, because of the Covid-19 effect, we have seen a clear channel switch effect; a high category growth in retail and a decline in foodservice. In other markets, where we have a larger share in foodservice, we have even seen a decline in total sales.
"Given current developments with Covid-19 it is not likely that foodservice will be back to 2019 levels for 2021, but hopefully it will start to pick up again towards the end of next year."