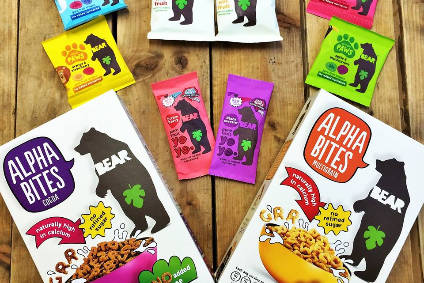 Belgium-based Lotus Bakeries has struck its second acquisition in the UK in four months with a move to buy Bear snacks owner Urban Fresh Foods.
The deal, announced today (17 December), follows Lotus' purchase in August of 67% of Natural Balance Foods, the UK firm behind snack bar brands Nakd and Trek.
"As a group, Lotus Bakeries wants to offer both more indulgent specialties and healthy snacking alternatives," Lotus CEO Jan Boone said: "We recognise there is a growing global demand for healthy alternatives hence we invested in Natural Balance Foods in the summer and now are delighted to add the brands of UFF. With this acquisition we will lead the way and become the true category captain of the healthy snacking category in the UK and abroad."
The deal will see the UK become Lotus' largest market by sales, Boone added. The company did not disclose how much it had agreed to pay for Urban Fresh Foods but said the price was equal to 14 times expected earnings before taxes.
Urban Fresh Foods was set up in 2007 by husband and wife Andrew and Hayley Gait-Goulding, who launched the company's first brand, Urban Fruit. Two years later, former Innocent Drinks executive Giles Brook invested in the company and the trio launched the Bear brand.
The group has seen its sales grow at an average rate of over 50% in the last six years. It forecasts sales will reach GBP27m in 2016.
In August, Brook told just-food Urban Fresh Foods was looking at ways to expand internationally and had been in "exploratory" talks with a number of parties to weigh up ways to further build its presence outside the UK.
The Gait-Gouldings and Brook will stay on under the new owners. In a joint statement, they said: "Lotus will help us maintain our growth story in the UK, where Bear has become the number one kids' fruit snacking brand. In terms of overseas markets, Lotus will be an invaluable partner when it comes to the internationalisation of our two brands."