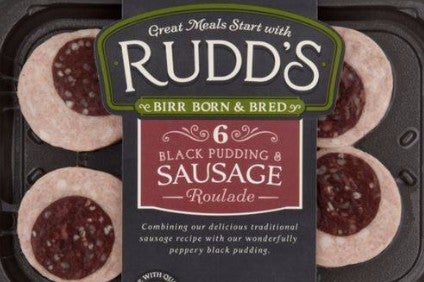 Irish meat processor Loughnane's plans to take over local rival Rudd's from O'Brien Fine Foods for an undisclosed sum.
Galway-based Loughnane's confirmed yesterday (3 July) it had agreed to buy Rudd's owners, Kildare-based Crinkle Fine Foods, which produces sausages and puddings.
Ireland's Competition and Consumer Protection Commission (CCPC), which will have to give its seal of approval to the deal before it can proceed was informed of the proposed acquisition on Thursday June 29th. If given the green light, the sale could go through as early as next month.
Rudd's, which is based in County Offaly makes sausages, black and white puddings and bacon, which it sells under its own label. The company also supplies own-label products to multiple retailers including Musgraves and Dunnes.
The company is part of family-owned, Kildare-based O'Brien Fine Foods, which supplies cold meat to supermarkets and delis. Its other brands include Brady Family Ham. It was taken over by father-and-son duo William and John O'Brien in 2005.
Loughnane's, a familiar name in the west of Ireland, is a family business run by managing director Daire Loughnane and his brother Eoin. Claiming to be one of Ireland's largest sausage and pudding producers, Loughnane's sells its products to both the Irish and international retail market.
The brothers said the key focus is on developing premium breakfast meats and regarded Rudd's a good fit with their company. 'We will be looking to drive the brand forward," Daire told The Irish Times.
In a statement, Daire said the acquisition was an investment in the future of his company. "It allows us to reach a larger customer base, diversify our product portfolio and create the means to expand our business into new markets," he said.
In January, O'Brien Fine Foods acquired local rival Faughan Foods, the cooked meats division of Hogan's Farm, for an undisclosed sum. MD John O'Brien said at the time the deal would allow the company to "build a strong presence in the white meat market in 2017"